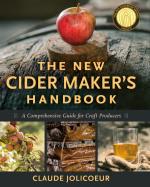 Like this book? Digg it!

Book Data
ISBN: 9781603584739
Year Added to Catalog: 2013
Book Format: Hardcover, PLC
Book Art: Full-Color Throughout
Dimensions: 8 x 10
Number of Pages: 352
Book Publisher: Chelsea Green
Release Date: September 17, 2013
Web Product ID: 755
Also in Food & Health
The New Cider Maker's Handbook
A Comprehensive Guide for Craft Producers
"Have you ever tasted a true farmhouse cider, full-bodied and richly flavored, or finished a meal with a sweet ice cider? Then you know the astonishing range of this once nearly forgotten drink. Whether you're a hobbyist interested in learning about fruit selection, or a commercial producer looking for better quality and consistency, this is your book. Claude Jolicoeur informs every page of his hands-on, comprehensive guide with 25 years of research and experience. For anyone who aspires to make the finest quality fermented cider, The New Cider Maker's Handbook is as indispensable as an apple press."

—David Buchanan, author of Taste, Memory
All around the world, the public's taste for fermented cider has been growing more rapidly than at any time in the past 150 years. And with the growing interest in locally grown and artisanal foods, many new cideries are springing up all over North America, often started up by passionate amateurs who want to take their cider to the next level as small-scale craft producers.
To make the very best cider—whether for yourself, your family, and friends or for market—you first need a deep understanding of the processes involved, and the art and science behind them. Fortunately, The New Cider Maker's Handbook is here to help. Author Claude Jolicoeur is an internationally known, award-winning cider maker with an inquiring, scientific mind. His book combines the best of traditional knowledge and techniques with up-to-date, scientifically based practices to provide today's cider makers with all the tools they need to produce high-quality ciders.
The New Cider Maker's Handbook is divided into five parts containing:
An accessible overview of the cider making process for beginners;
Recommendations for selecting and growing cider-appropriate apples;
Information on juice-extraction equipment and directions on how to build your own grater mill and cider press;
A discussion of the most important components of apple juice and how these may influence the quality of the cider;
An examination of the fermentation process and a description of methods used to produce either dry or naturally sweet cider, still or sparkling cider, and even ice cider.
This book will appeal to both serious amateurs and professional cider makers who want to increase their knowledge, as well as to orchardists who want to grow cider apples for local or regional producers. Novices will appreciate the overview of the cider-making process, and, as they develop skills and confidence, the more in-depth technical information will serve as an invaluable reference that will be consulted again and again. This book is sure to become the definitive modern work on cider making.