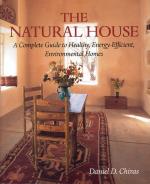 Like this book? Digg it!

Book Data
ISBN: 9781890132576
Year Added to Catalog: 2000
Book Format: Paperback
Book Art: b&w illustrations and photographs, resource guide, index
Number of Pages: 8 x 10, 480 pages
Book Publisher: Chelsea Green Publishing
Old ISBN: 1890132578
Release Date: June 1, 2000
Web Product ID: 147
The Natural House
A Complete Guide to Healthy, Energy-Efficient, Environmental Homes
Excerpt
From Chapter 1: Striking Out in a New Direction

This book is my attempt to help you make as many correct decisions as possible, eliminating costly and embarrassing mistakes, while fashioning a house that serves the spirit, the planet, and the body. As you proceed, you will find that many so-called experts will express divergent views on various issues--for example, whether it makes sense to place rigid foam under a concrete slab. People just plain differ in their views. Always seek competent advice and be wary of those who can't back up their assertions with hard facts. If you feel in your guts that something isn't right, trust your intuition. Some misinformation comes from proponents of particular homes, who often promote "their technology" as if it were the ultimate in homebuilding. Well meaning and vital to the advancement of natural homebuilding, these pioneers sometimes suffer from a bit of zealousness that we must accept, understand, and lovingly forgive.

Beware of rosy construction cost estimates, too. Tim Pettet, an Earthship, straw bale, and adobe builder based in Ouray, Colorado, makes a living largely helping people who have gotten into trouble, either financially or technically, while building a natural home of their own. Many of his clients, he says, have read an article or two in a popular magazine or newspaper about people who have built Earthships for some ridiculously low price, then set out to replicate the experience. Sadly, many of them find that they can't build the home of their dreams for $40 per square foot. Others run into difficulty, being swayed by wrongful assertions that it is "easy to build a natural home." Low on money or in over their heads, they call Tim to bail them out. (Tim is listed in the resource guide.) If you are building your own home, hire a consultant early on, before you start construction. As Cedar Rose, a consultant and natural builder from Carbondale, Colorado asserts, "People get into trouble because they don't spend enough time planning. A few thousand dollars spent on planning can save you tens of thousands of dollars in the long run."

From Chapter 6:
Should You Build with Cob?
By now, you are aware that each form of natural building has its list of pros and cons. Let me hasten to add that disadvantages are not unique to alternative building. Conventional homebuilding has disadvantages, too. But because we are so familiar with conventional techniques, we forget the disadvantages, among them, their egregious depletion of the Earth's natural resources. So, don't damn alternative building for a few faults until you've compared it to conventional practices.

Advantages of Building with Cob

* Building with earth can be fun and relatively inexpensive, especially if you do the work yourself, scrounge for materials, build a simple structure, and have modest desires when it comes to finish materials.
* Cob structures lend themselves to curved walls and other visually inviting features. It is easy and fun to fashion niches, furniture, and shelves out of cob.
* Cob construction encourages artistic expression. Walls can be designed as they go up, providing maximum creative freedom. A cob home can be as much art as it is a home.
* Rounded, tapered walls appear to be highly resistant to earthquakes.
* Cob construction does not require forms as in rammed earth construction.
* Cob is applied directly to the wall, eliminating the need to make mud bricks, as in adobe construction.
* Cob homes are ideally suited for passive solar heating.
* In some areas, such as arid desert regions, cob stays warm in the winter and cool in the summer.
* Thick cob walls insulate the interior space from outside noise.
* Cob construction relies on locally available resources.
* Cob construction requires much less wood and fewer manufactured building materials than many other forms of building.
* Cob construction is relatively easy to learn and requires minimal building skills. Even kids can become skilled cobbers.
* Cob construction is labor intensive, but requires very little outside energy or power tools.
* Cob construction is forgiving. Mistakes can be easily rectified.
* Cob integrates well with other earth-friendly forms of architecture, including straw bale and adobe.
* Cob is easy to remodel, even when fully cured. For example, windows can be added and walls can be extended to create new living space.
* Cob can be used to fashion niches, furniture, and shelves.
* Cob walls are fireproof.
* Building with cob poses little danger to workers on the site.
* Cob construction encourages community participation. Young and old, family and friends, can participate in meaningful ways.

What Are the Disadvantages?

* Getting approval for cob construction may be difficult in some areas. In the U.S., there are only a few jurisdictions that formally approve cob construction. Many cob builders therefore choose to avoid building departments. Although this is an option, it is a risky one. If you are caught, a building department can force you to tear down an unpermitted structure. Note: Some legally permitted cob buildings are now starting to appear. These may make it easier in the future for others to follow suit.
* Cob construction, while relatively simple, is labor intensive. That can be a plus or a minus, depending on your personality and your attitudes about the value of hard work.
* Stone foundations, which are often used in cob construction, are also labor intensive. A small, 20-foot round building will require 8 tons of stone, which are usually collected by hand, stockpiled, and then set in place.
* Cob is a remarkable housing alternative. To many people, its benefits clearly outweigh its negatives. But earth-friendly architecture is only half of the battle to living lightly on the land. To be sustainable, the home should incorporate passive solar design, solar electricity, recycled materials, rain catchment, graywater recycling, and other features discussed in Part 3.