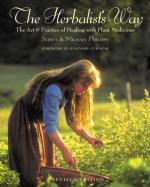 Like this book? Digg it!

Book Data
ISBN: 9781931498760
Year Added to Catalog: 2005
Book Format: Paperback
Book Art: photographs, appendices, resources
Number of Pages: 8 x 10, 352 pages
Book Publisher: Chelsea Green Publishing
Old ISBN: 1931498768
Release Date: April 30, 2005
Web Product ID: 329
The Herbalist's Way
The Art and Practice of Healing with Plant Medicines
Foreword by Rosemary Gladstar
Upcoming Author Events
Nancy Phillips's Events
Michael Phillips's Events
CHARLOTTESVILLE, VA

May 3, 2014, 9:00 am

Michael Phillips at Vintage Virginia Apples

Vintage Virginia Apples, Charlottesville VA

Join us for a comprehensive exploration of orchard health strategies that make disease and insect challenges doable for organic growers. The day will consist of a fun mix of lectures and hands-on time with trees, with many opportunities to ask questions of Michael. Learn more at www.albemarleciderworks.com.

COCAGNE, NEW BRUNSWICK, CANADA

June 21, 2014, 12:00 pmMichael Phillips at Cocagne River Orchard

Verger de la rivière, 501 Cocagne South Rd, Cocagne New Brunswick, Canada

Nancy and Michael Phillips will head north to share orcharding and herbal skills at Cocagne River Orchard, June 21-22. One full day will be spent on Home Orchard Basics for folks with backyard trees; the other will scale up to Community Orcharding the Holistic Way for commercial growers. Home herbalists can opt for time with Nancy to explore Foundations in Herbal Healing.

SHELBURNE, MA

November 1, 2014, 10:00 amMichael Phillips at the 2014 Cider Days

Various Locations, Shelburne MA

Come for two days of orchard tours, cider making and tastings, and workshops, November 1-2. This is for all who love apples, fresh or hard cider, apple cuisine, apple orchards or just being in New England in the fall. Michael will be there to give an organic orchard tour, share growing insights with other noted orchardists, and lead a traditional wassail ceremony.

US Orders Only.
International Orders: Click here.
Additional Information
Michael Phillips's Upcoming Events
Michael Phillips at Vintage Virginia Apples


Vintage Virginia Apples, Charlottesville VA

May 3, 2014, 9:00 am

Michael Phillips at Cocagne River Orchard


Verger de la rivière, 501 Cocagne South Rd, Cocagne New Brunswick, Canada

June 21, 2014, 12:00 pm

Michael Phillips at the 2014 Cider Days


Various Locations, Shelburne MA

November 1, 2014, 10:00 am