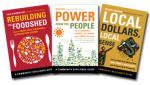 Like this book? Digg it!

Book Data
ISBN: 9781603585156
Book Format: Paperback
Dimensions: 6 x 9, 3 books
Number of Pages: 288, 288, and 360 pages, respectively
Book Publisher: Chelsea Green
Release Date: February 1, 2013
Web Product ID: 749
The Community Resilience Guide Series Set
Upcoming Author Events
Philip Ackerman-Leist's Events
Greg Pahl's Events
Michael H. Shuman's Events
VICTORIA, BRITISH COLUMBIA, CANADA

October 6, 2014, 9:00 amMichael Shuman at the Community Futures Conference

Bear Mountain Resort, Victoria British Columbia, Canada

Michael will be a keynote speaker at the Community Futures Conference in British Columbia on October 6, discussing "Building an Ecosystem of Local Entrepreneurship."

SAN RAFAEL, CA

October 17, 2014, 12:00 pm

Michael Shuman at Bioneers Conference

Bioneers Conference, San Rafael CA

Michael Shuman will participate in a panel at the Bioneers Conference on October 17. The panel will focus on Re-localizing the food system and will also feature Sibelia Kraus and Severine v T Fleming.