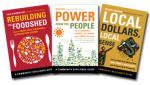 Like this book? Digg it!

Book Data
ISBN: 9781603585156
Book Format: Paperback
Dimensions: 6 x 9, 3 books
Number of Pages: 288, 288, and 360 pages, respectively
Book Publisher: Chelsea Green
Release Date: February 1, 2013
Web Product ID: 749
The Community Resilience Guide Series Set
Upcoming Author Events
Philip Ackerman-Leist's Events
Greg Pahl's Events
Michael H. Shuman's Events
BERKELEY, CA

June 7, 2015, 5:00 pm

Michael Shuman at the Three Stone Hearth

1581 University Ave. , Berkeley CA 94703

On June 7th, Michael Shuman will present at the Three Stone Hearth in Berkeley, CA at 5:00 PM.

PHOENIX, AZ

June 10, 2015, 12:00 pmMichael Shuman at 2015 BALLE Conference

BALLE Conference, Phoenix AZ 85042

MIchael Shuman will be a plenary speaker at the 2015 BALLE Conference in Phoenix, Arizona from June 10-12, 2015.