The Community Resilience Guide Series Set
In the twenty-first century, we face a set of interconnected economic, energy, and environmental crises that require all the courage, creativity, and cooperation we can muster. While national and international leadership are key to navigating the bumpy road ahead, that leadership thus far is sadly wanting. And, in any case, many of the best responses to these challenges are inherently local.
Thankfully, a small but growing movement of engaged citizens, community groups, businesses, and local elected officials are leading the way. While diverse, the essence of these efforts is the same: a recognition that the world is changing and the old way of doing things no longer works.
Chelsea Green Publishing has partnered with Post Carbon Institute to publish this series of Community Resilience Guides to detail some of the most inspiring and replicable of these efforts. We've made them available as a discounted set here, or you can purchase them individually by clicking on the book covers below.
Learn more about the series at Resilience.org.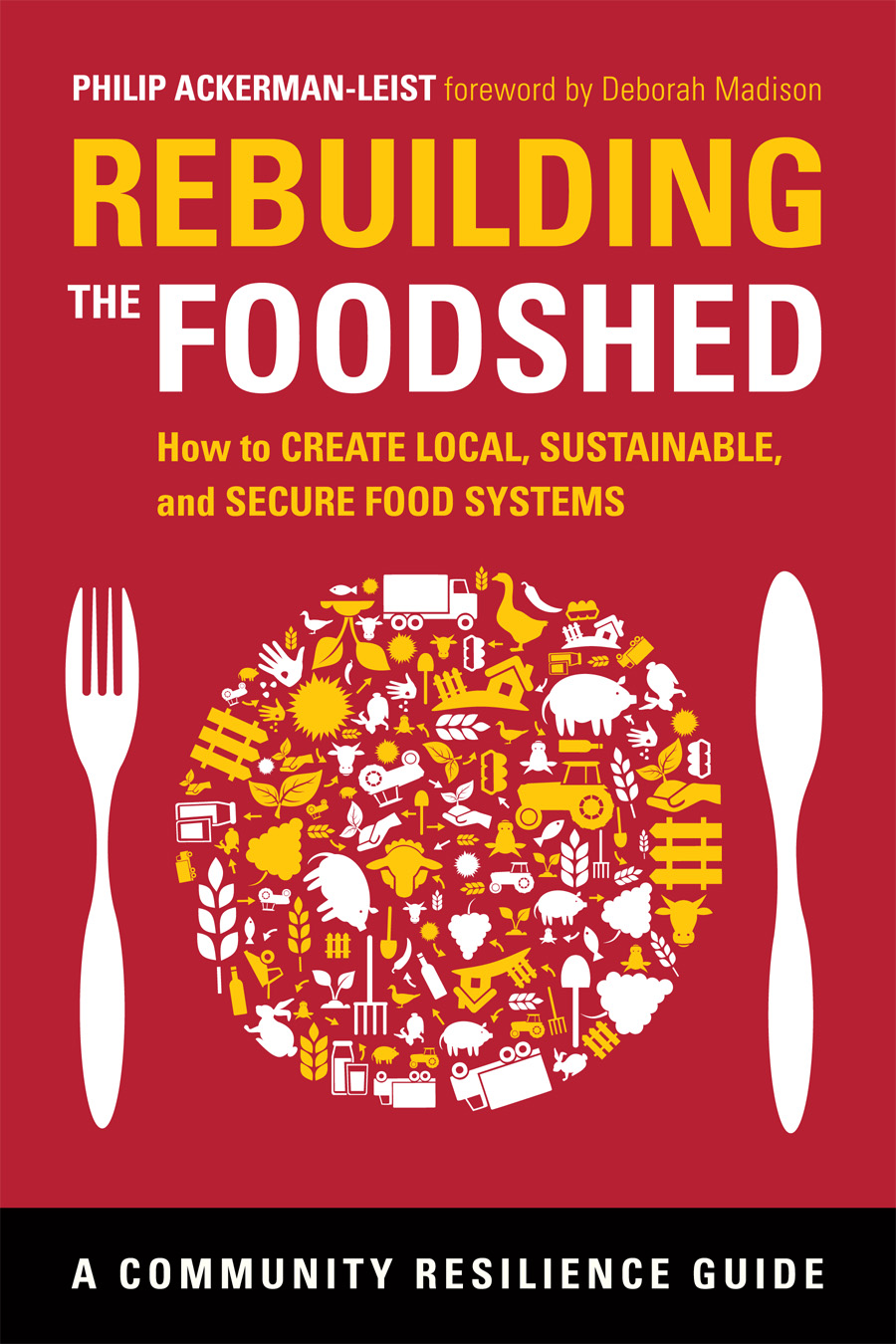 Rebuilding the Foodshed: How to Create Local, Sustainable, and Secure Food Systems
by Philip Ackerman-Leist
Droves of people have turned to local food as a way to retreat from our broken industrial food system. From rural outposts to city streets, they are sowing, growing, selling, and eating food produced close to home—and they are crying out for agricultural reform. All this has made "local food" into everything from a movement buzzword to the newest darling of food trendsters.
But now it's time to take the conversation to the next level. That's exactly what Philip Ackerman-Leist does in Rebuilding the Foodshed, in which he refocuses the local-food lens on the broad issue of rebuilding regional food systems that can replace the destructive aspects of industrial agriculture, meet food demands affordably and sustainably, and be resilient enough to endure potentially rough times ahead.
Changing our foodscapes raises a host of questions. How far away is local? How do you decide the size and geography of a regional foodshed? How do you tackle tough issues that plague food systems large and small—issues like inefficient transportation, high energy demands, and rampant food waste? How do you grow what you need with minimum environmental impact? And how do you create a foodshed that's resilient enough if fuel grows scarce, weather gets more severe, and traditional supply chains are hampered?
Showcasing some of the most promising, replicable models for growing, processing, and distributing sustainably grown food, this book points the reader toward the next stages of the food revolution. It also covers the full landscape of the burgeoning local-food movement, from rural to suburban to urban, and from backyard gardens to large-scale food enterprises.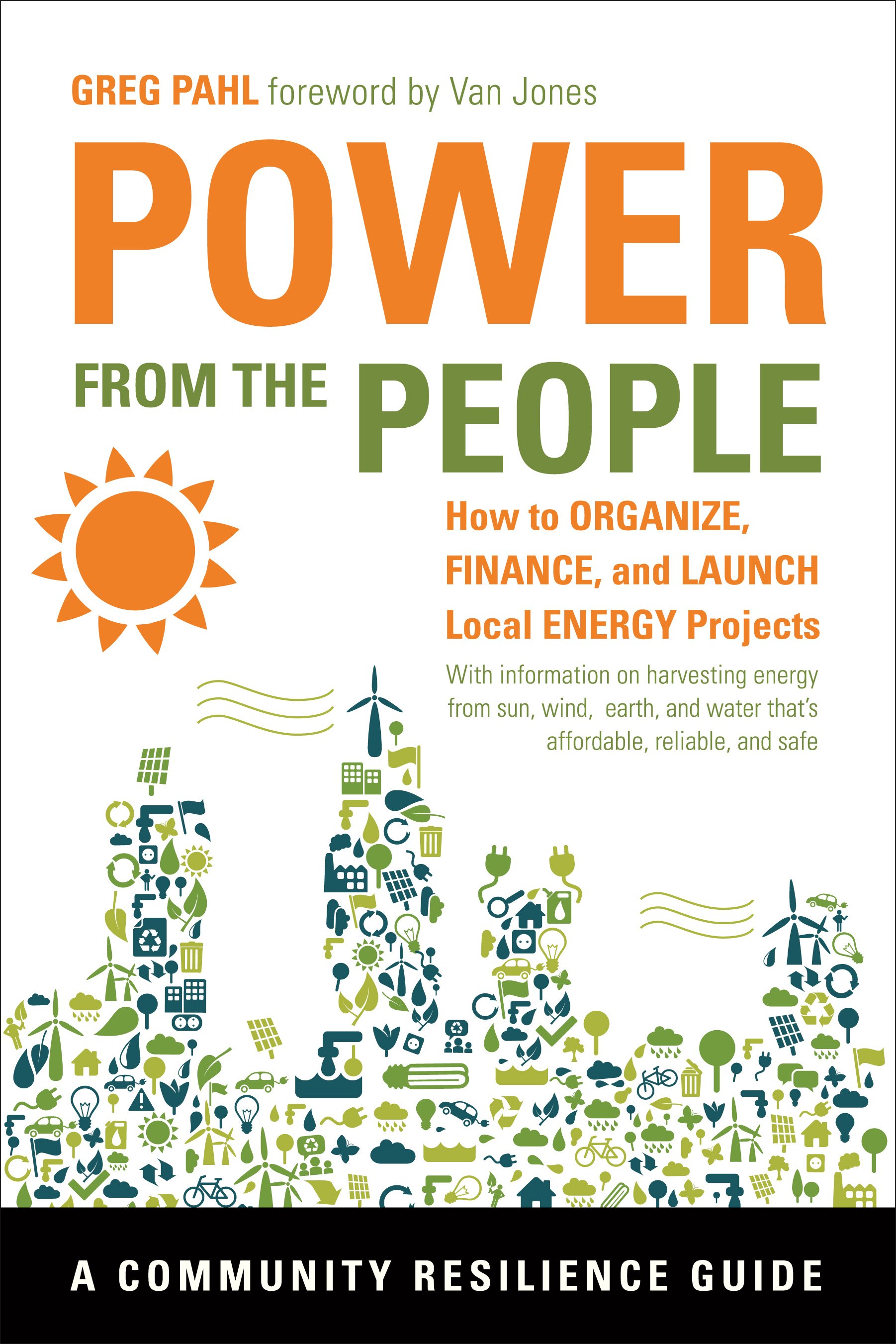 Power From the People: How to Organize, Finance, and Launch Local Energy Projects
by Greg Pahl
More than ninety percent of the electricity we use to light our communities, and nearly all the energy we use to run our cars, heat our homes, and power our factories comes from large, centralized, highly polluting, nonrenewable sources of energy.
It doesn't have to be that way. In Power from the People, energy expert Greg Pahl explains how American communities can plan, finance, and produce their own local, renewable energy that is reliable, safe, and clean.
Pahl uses examples from around the nation and the world to explore how homeowners, co-ops, nonprofits, governments, and businesses are already putting power in the hands of local communities through distributed energy programs and energy-efficiency measures.
Renewable, community power is a necessary step on the path to energy security and community resilience, particularly as we face peak oil, cope with climate change, and address the need to transition to a more sustainable future.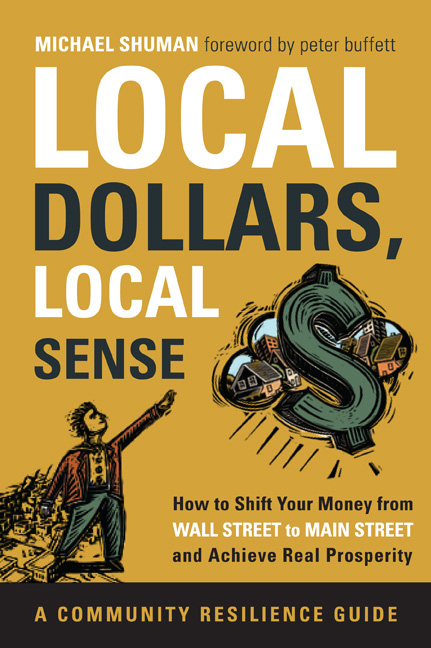 Local Dollars, Local Sense: How to Shift Your Money from Wall Street to Main Street and Achieve Real Prosperity
by Michael H. Shuman
Americans' long-term savings in stocks, bonds, mutual funds, pension funds, and life insurance funds total about $30 trillion. But not even 1 percent of these savings touch local small business—even though roughly half the jobs and the output in the private economy come from them. So, how can people increasingly concerned with the poor returns from Wall Street and the devastating impact of global companies on their communities invest in Main Street?
In Local Dollars, Local Sense, local economy pioneer Michael Shuman shows investors, including the nearly 99% who are unaccredited, how to put their money into building local businesses and resilient regional economies—and profit in the process. A revolutionary toolbox for social change, written with compelling personal stories, the book delivers the most thorough overview available of local investment options, explains the obstacles, and profiles investors who have paved the way. Shuman demystifies the growing realm of local investment choices—from institutional lending to investment clubs and networks, local investment funds, community ownership, direct public offerings, local stock exchanges, crowdfunding, and more. He also guides readers through the lucrative opportunities to invest locally in their homes, energy efficiency, and themselves.
A rich resource for both investors and the entrepreneurs they want to support, Local Dollars, Local Sense eloquently shows how to truly protect your financial future—and your community's.