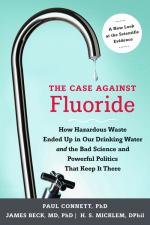 Like this book? Digg it!

Book Data
ISBN: 9781603582872
Year Added to Catalog: 2010
Book Format: Paperback
Book Art: Tables, charts, graphs
Dimensions: 6 x 9
Number of Pages: 384
Book Publisher: Chelsea Green Publishing
Release Date: October 1, 2010
Web Product ID: 535
Also in Food & Health
The Case Against Fluoride
How Hazardous Waste Ended Up in Our Drinking Water and the Bad Science and Powerful Politics That Keep It There
Praise
Starred Review On the eve of the new millennium, the Centers for Disease Control (CDC) listed water fluoridation as one of the twentieth-century's 10 greatest public-health achievements. Yet according to the authors of this painstakingly researched expos&eacute of fluoridation's overall ineffectiveness and toxicity, endorsements such as these from the CDC and other health organizations are motivated more by face-saving politics than credible research. Fluoridation advocates who have previously branded detractors as conspiracy theorists and shills for junk science will be hard pressed to debunk the hundreds of peer-reviewed studies and sound scientific reasoning presented here. In demonstrating fluoridation's ineffectiveness, the authors cite exhaustive evidence proving fluoride's only benefits are topical, as in toothbrushing, as opposed to swallowing. But the case against fluoride's alleged safety, even in small doses, is more alarming, with multiple studies showing fluoride's probable complicity in lowered intelligence scores, thyroid dysfunction, hip fractures, and the ominously rising incidence of osteosarcoma in boys. The authors' academic, hyperbole-free writing style serves them well in marshaling a series of facts that, all by themselves, expose fluoridation as a false panacea. It remains to be seen, however, whether the public-health community will give this landmark work due credit or continue to rubber stamp an outdated policy that, like bloodletting and trepanation, properly belongs on the scrap heap of sham medical interventions.

—Booklist
"For anyone who has ever wondered why cities add fluoride to water—and questioned whether they should. Written with clear and easy-to-read prose, and supporting citations, The Case Against Fluoride carefully lays out the arguments against fluoridation and reasons why it should be discontinued. The authors examine the evidence on fluoridation and conclude convincingly that it should now be considered 'harmful and ineffective.'"

—Dr. Hardy Limeback, Professor and Head of Preventative Dentistry, University of Toronto
"Sweden rejected fluoridation in the 1970s and, in this excellent book, these three scientists have confirmed the wisdom of that decision. Our children have not suffered greater tooth decay, as World Health Organization figures attest, and in turn our citizens have not borne the other hazards fluoride may cause. In any case, since fluoride is readily available in toothpaste, you don't have to force it on people."

—Arvid Carlsson, Nobel Laureate in Medicine or Physiology (2000) and Emeritus Professor of Pharmacology, University of Gothenburg
"This book clearly shows that water fluoridation is poor public policy and must end. As a concerned citizen, I applaud the authors for bringing this issue to the world's attention."

—Ed Asner
"Alfred North Whitehead said the scientific method means leaving 'options open for revision.' An ancient Roman adage says that 'whatever touches all must be approved by all.' These characterizations of science and democracy are the reasons for reading this book. Especially if you and your family are drinking administratively mandated fluoridated water."

—Ralph Nader

US Orders Only.
International Orders: Click here.
Additional Information
Paul Connett's Upcoming Events
Paul Connett at Maine Resource Recovery Association


Samoset Resort, Rockport ME

April 28, 2014, 12:00 pm

Paul Connett at Ontario's 1st Zero Waste Conference


500 University Ave., Orillia Ontario, Canada

August 10, 2014, 12:00 pm