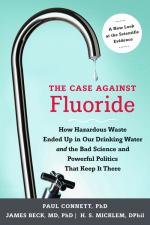 Like this book? Digg it!

Book Data
ISBN: 9781603582872
Year Added to Catalog: 2010
Book Format: Paperback
Book Art: Tables, charts, graphs
Dimensions: 6 x 9
Number of Pages: 384
Book Publisher: Chelsea Green Publishing
Release Date: October 1, 2010
Web Product ID: 535
Also in Food & Health
The Case Against Fluoride
How Hazardous Waste Ended Up in Our Drinking Water and the Bad Science and Powerful Politics That Keep It There
Starred Review On the eve of the new millennium, the Centers for Disease Control (CDC) listed water fluoridation as one of the twentieth-century's 10 greatest public-health achievements. Yet according to the authors of this painstakingly researched expos&eacute of fluoridation's overall ineffectiveness and toxicity, endorsements such as these from the CDC and other health organizations are motivated more by face-saving politics than credible research. Fluoridation advocates who have previously branded detractors as conspiracy theorists and shills for junk science will be hard pressed to debunk the hundreds of peer-reviewed studies and sound scientific reasoning presented here. In demonstrating fluoridation's ineffectiveness, the authors cite exhaustive evidence proving fluoride's only benefits are topical, as in toothbrushing, as opposed to swallowing. But the case against fluoride's alleged safety, even in small doses, is more alarming, with multiple studies showing fluoride's probable complicity in lowered intelligence scores, thyroid dysfunction, hip fractures, and the ominously rising incidence of osteosarcoma in boys. The authors' academic, hyperbole-free writing style serves them well in marshaling a series of facts that, all by themselves, expose fluoridation as a false panacea. It remains to be seen, however, whether the public-health community will give this landmark work due credit or continue to rubber stamp an outdated policy that, like bloodletting and trepanation, properly belongs on the scrap heap of sham medical interventions.

—Booklist
National Health Information Award Winner - 2011
When the U.S. Public Health Service endorsed water fluoridation in 1950, there was little evidence of its safety. Now, six decades later and after most countries have rejected the practice, more than 70 percent of Americans, as well as 200 million people worldwide, are drinking fluoridated water. The Center for Disease Control and the American Dental Association continue to promote it--and even mandatory statewide water fluoridation--despite increasing evidence that it is not only unnecessary, but potentially hazardous to human health.
In this timely and important book, Dr. Paul Connett, Dr. James Beck, and Dr. H. Spedding Micklem take a new look at the science behind water fluoridation and argue that just because the dental and medical establishments endorse a public health measure doesn't mean it's safe. In the case of water fluoridation, the chemicals that go into the drinking water that more than 180 million people drink each day are not even pharmaceutical grade, but rather a hazardous waste product of the phosphate fertilizer industry. It is illegal to dump this waste into the sea or local surface water, and yet it is allowed in our drinking water. To make matters worse, this program receives no oversight from the Food and Drug Administration, and the Environmental Protection Agency takes no responsibility for the practice. And from an ethical standpoint, say the authors, water fluoridation is a bad medical practice: individuals are being forced to take medication without their informed consent, there is no control over the dose, and no monitoring of possible side effects.
At once painstakingly documented and also highly readable, The Case Against Fluoride brings new research to light, including links between fluoride and harm to the brain, bones, and endocrine system, and argues that the evidence that fluoridation reduces tooth decay is surprisingly weak.