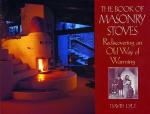 Like this book? Digg it!

Book Data
ISBN: 9781890132095
Year Added to Catalog: 1996
Book Format: Paperback
Book Art: b&w photographs and illustrations, appendices, bibliography, index
Number of Pages: 11 x 8.5, 208 pages
Book Publisher: Chelsea Green Publishing
Old ISBN: 1890132098
Release Date: September 1, 1997
Web Product ID: 208
Also in Green Building
The Book of Masonry Stoves
Rediscovering an Old Way of Warming
Within the past decade, millions of Americans have discovered the economic benefits and personal pleasures of heating with wood. At the same time, many have discovered that there are serious problems associated with wood heat and iron stoves: chimney fires from creosote, air pollution from poor combustion, and structural fires caused by faulty stove installation. The masonry stove, widely used in Europe and Asia for centuries, surmounts these problems.
Masonry stoves offer good solutions to many of the problems associated with wood burning. They provide clean combustion at a high temperature, good efficiency, a high degree of safety, and little or no pollution. Masonry stoves require little care, needing to be fed only once or twice a day. They come in a wide variety of shapes and sizes from simple to elegant and from austere to gothic. And they are easily adapted to a variety of structures including solar designs.
The Book of Masonry Stoves represents the first comprehensive survey ever published of all the major types of masonry heating systems, ancient and modern. Detailed plans and building information are included in the book. As a complete introduction to masonry stoves, it will help many people rediscover an old way of warming, using masonry stoves.

tile stove from Gleifheim Castle, Austria, photo by Gunter von Voithenberg; (above left) Contraflow stove by Norbert Senf Canada; (above right) stove by Erno Weidenmann, Germany
"More than a mere manual, The Book of Masonry Stoves is a fascinating study of the history of fire through the ages. It's also a convincing argument for the efficiency, safety, and comfort of masonry."
--Susan Renner-Sinith, Popular Science Magazine

"It's hard to believe that anyone knows more about wood heating--let alone masonry stoves--than David Lvle, who has made it a consuming avocation and profession for many years. Unless I miss my guess, anyone who reads The Book of Masonry Stoves will come away with an almost overwhelming desire to install one of these wonderfully efficient, sensible devices in their home."
--Richard M. Ketchum, Blair & Ketchum's Country Journal

The Book of Masonry Stoves has been a selection of the Popular Science, Rodale, and MacMillan Book Clubs.