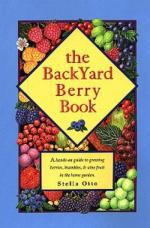 Like this book? Digg it!

Book Data
ISBN: 9780963452061
Year Added to Catalog: 2004
Book Format: Paperback
Book Art: b&w illustrations, resources and references, glossary, index
Number of Pages: 6 x 9, 288 pages
Book Publisher: OttoGraphics
Old ISBN: 0963452061
Release Date: March 17, 1995
Web Product ID: 156
The Backyard Berry Book
A Hands-on Guide to Gardening Berries, Brambles, & Vine Fruit in the Home Garden
"If you're dreaming of harvesting mouth-watering small fruits in your own backyard, ...read this book! If you're already trying small fruit production and harvesting a peck of problems, ...read this book. Stella Otto tells you how to grow the familiar and the more exotic, for big results in a little space."

—Jan Riggenbach, columnist, Midwest Gardening and Midwest Living magazine
Here's hands-on advice from a professional horticulturist and experienced fruit grower to help gardeners create an edible landscape. The Backyard Berry Book provided all the information that backyard gardeners need to grow strawberries, rhubarb, raspberries, blackberries, blueberries, lingonberries, currants, gooseberries, grapes, and kiwi fruit. Includes details on soil nutrition and testing; disease, pest, weed, and bird control; and trellis design. A trouble-shooting section and Seasonal Activity Calendar will help ensure success.