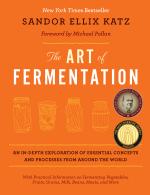 Like this book? Digg it!

Book Data
ISBN: 9781603582865
Year Added to Catalog: 2011
Book Format: Hardcover
Book Art: Two-color Throughout, plus two 16-page color inserts
Dimensions: 7 x 9 1/2
Number of Pages: 528
Book Publisher: Chelsea Green
Release Date: April 30, 2012
Web Product ID: 669
The Art of Fermentation
An In-Depth Exploration of Essential Concepts and Processes from Around the World
Foreword by Michael Pollan
Reviews, Interviews, & Articles
Reviews
Library Journal (05/01/2012):
This is not a line-by-line recipe cookbook, but it contains detailed instructions on fermenting (or creating via fermentation) nearly every imaginable food or beverage. After a foreword by Michael Pollan, Katz ("Wild Fermentation") explores the scientific basis of fermentation, then gives details for creating everything from yogurts to prosciutto to wines, beer, and kombucha. He emphasizes how fermentation influenced human development. Used to preserve food, it affected human biology so that humans could eat foods that would be poisonous otherwise, and it had an impact on global human culture as a reflection of indigenous cultural identity. Simply put, fermentation allows lactic acid bacteria naturally found in the air to overcome and exclude bacteria that are harmful to humans, and it increases advantageous chemical compounds, such as vitamins, in the process. There is a generous photo section of tools, containers, and processes; along with fascinating electron microscope photos of bacteria, which convey a sense of wonder at the unseen world of fermentation. VERDICT Katz takes fermentation down to the molecular level while keeping it conversational and accessible to the generalist. Fermentation foodies will be ecstatic.--Meredith Toumayan, Langley-Adams Lib.,
Interviews Articles
Permaculture Media Blog: Videos and Reviews of Wild Fermentation, Fermentation Workshop, and Revolution
Jewish Daily Forward: The Jew and The Carrot: "The Passionate Pickler" with praise for Wild Fermentation

US Orders Only.
International Orders: Click here.
Sandor Ellix Katz's Upcoming Events
Sandor Katz at the Sequatchie Valley Institute


, Whitwell TN

May 31, 2013, 12:00 am

Sandor Katz at Homestead Restoration and Fermentation Residency


, Woodbury TN

June 11, 2013, 12:00 pm

Sandor Katz at Vermont Food Systems Summit


, Burlington VT

June 27, 2013, 12:00 pm

Sandor Katz at Oregon Country Fair


, Eugene OR

July 12, 2013, 12:00 pm

Sandor Ellix Katz at The Farm


, Summertown TN

July 27, 2013, 12:00 pm