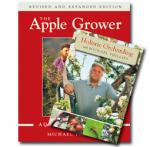 Like this book? Digg it!

Book Data
ISBN: 9781603585125
Book Format: Paperback, DVD
Book Art: Full-Color Throughout
Dimensions: 8 x 10, 180 minutes
Number of Pages: 320
Book Publisher: Chelsea Green
Release Date: February 1, 2013
Web Product ID: 748
The Apple Grower and Holistic Orcharding with Michael Phillips (Book & DVD Bundle)
Upcoming Author Events
CANTERBURY , NH

May 16, 2015, 10:00 amMichael Phillips at Canterbury Shaker Village

288 Shaker Road, Canterbury NH 03224

On May 16, Michael Phillips will lead a workshop on home orchard care at the Canterbury Shaker Village in New Hampshire. Join this workshop for a comprehensive exploration of orchard health strategies that make disease and insect challenges doable for organic growers. The day will consist of a fun mix of lectures and hands-on time with trees, with many opportunities to ask questions of Michael.

NORTON, MA

June 12, 2015, 8:00 amNancy and Michael Phillips at the International Herb Symposium

26 East Main Street, Norton MA 02766

On June 12-14, Nancy and Michael will teach with herbalists from around the globe at the International Herb Symposium, at Wheaton College. Nancy will lead two workshops on kitchen cabinet pharmacy and herbs for children's health, as well as an intensive on herbal preparations 101, while Michael will lead two workshops on health plant metabolism, and garlic connections. Early bird registration cost is $275, and regular registration is $350.