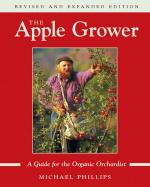 Like this book? Digg it!

Book Data
ISBN: 9781931498913
Year Added to Catalog: 2005
Book Format: Paperback
Book Art: full color throughout, charts, resources, bibliography, index
Number of Pages: 8 x 10, 320 pages
Book Publisher: Chelsea Green Publishing
Old ISBN: 1931498911
Release Date: November 15, 2005
Web Product ID: 319
The Apple Grower
A Guide for the Organic Orchardist, Second Edition
Praise
"A must read for anyone who grows apples or is contemplating doing so."

—Lee A. Reich, garden author and Associated Press syndicated columnist
"Michael Phillips bridges the small but precarious chasm between organic and IPM apple growing. This book is full of facts, lore, and a lot of heart and soul."

—Chuch Souther, Apple Hill Farm, Concord, New Hampshire
"Homeowners with just a few apple trees will find this book indispensable. Some of the orchard scale of the text can easily be reduced to any size of planting—even two trees. The book really shines in its display of pests and disease along with step-by-step instruction for safe, organic solutions. Very good, thoughtful discussions of the two biggest threats to apples: scab and codling moth. The book stress the husbandry of apples, not the types. Phillips leaves that up to your personal taste buds at a fall apple-tasting event and provides some good references. Very well illustrated."

—Robert Kourik, author of Designing and Maintaining Your Edible Landscape Naturally
"This is a book I'd love to have written—the best source available of all the best information on growing healthy apples."

—Elliot Coleman, author of The New organic Grower and Four-Season Harvest
"The lure of the apple has been the undoing of may a would-be fruit gardener. But with experience comes wisdom, and nowhere has this wisdom been more generously and articulately revealed than in the pages of this book. Apples will never be easy to raise, but to taste of these pages is to be blessed with fresh hopes for one's own harvest."

—Roger B. Swain, science editor, Horticulture magazine

US Orders Only.
International Orders: Click here.
Additional Information
Michael Phillips's Upcoming Events
Michael Phillips at Vintage Virginia Apples


Vintage Virginia Apples, Charlottesville VA

May 3, 2014, 9:00 am

Michael Phillips at Cocagne River Orchard


Verger de la rivière, 501 Cocagne South Rd, Cocagne New Brunswick, Canada

June 21, 2014, 12:00 pm

Michael Phillips at the 2014 Cider Days


Various Locations, Shelburne MA

November 1, 2014, 10:00 am