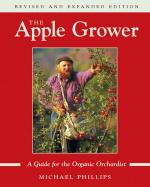 Like this book? Digg it!

Book Data
ISBN: 9781931498913
Year Added to Catalog: 2005
Book Format: Paperback
Book Art: full color throughout, charts, resources, bibliography, index
Number of Pages: 8 x 10, 320 pages
Book Publisher: Chelsea Green Publishing
Old ISBN: 1931498911
Release Date: November 15, 2005
Web Product ID: 319
The Apple Grower
A Guide for the Organic Orchardist, Second Edition
Holistic Orchardist Network
Author Michael Phillips has launched a new Web site, GrowOrganicApples.com, as well as an interactive orchard blog:
Community Orcharding depends on local growers raising nutritious fruit for apple lovers who recognize the full value of such pioneering work. Appreciable challenges need to be met to bring an organic apple harvest to table. Our holistic orchardist network focuses on sharing sustainable fruit growing techniques that emphasize orchard soil health which in turn makes for healthy trees and thus healthy apples and -- blessed be! -- healthy people.

US Orders Only.
International Orders: Click here.
Additional Information
Michael Phillips's Upcoming Events
Michael Phillips at MOFGA Orchard Class


MOFGA, Unity ME

April 19, 2014, 9:00 am

Doug Fine on "A Meeting of the Ways" with Diana Solomon


,

April 20, 2014, 5:00 pm

Michael Phillips at Vintage Virginia Apples


Vintage Virginia Apples, Charlottesville VA

May 3, 2014, 9:00 am

Michael Phillips at Cocagne River Orchard


Verger de la rivière, 501 Cocagne South Rd, Cocagne New Brunswick, Canada

June 21, 2014, 12:00 pm

Michael Phillips at the 2014 Cider Days


Various Locations, Shelburne MA

November 1, 2014, 10:00 am