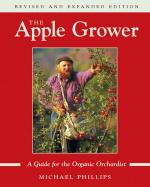 Like this book? Digg it!

Book Data
ISBN: 9781931498913
Year Added to Catalog: 2005
Book Format: Paperback
Book Art: full color throughout, charts, resources, bibliography, index
Number of Pages: 8 x 10, 320 pages
Book Publisher: Chelsea Green Publishing
Old ISBN: 1931498911
Release Date: November 15, 2005
Web Product ID: 319
The Apple Grower
A Guide for the Organic Orchardist, Second Edition
"Homeowners with just a few apple trees will find this book indispensable. Some of the orchard scale of the text can easily be reduced to any size of planting—even two trees. The book really shines in its display of pests and disease along with step-by-step instruction for safe, organic solutions. Very good, thoughtful discussions of the two biggest threats to apples: scab and codling moth. The book stress the husbandry of apples, not the types. Phillips leaves that up to your personal taste buds at a fall apple-tasting event and provides some good references. Very well illustrated."

—Robert Kourik, author of Designing and Maintaining Your Edible Landscape Naturally
The definitive guide to growing apples wisely, naturally, and with gentle impact on the earth.
For decades fruit growers have sprayed their trees with toxic chemicals in an attempt to control a range of insect and fungal pests. Yet it is possible to grow apples responsibly, by applying the intuitive knowledge of our great-grandparents with the fruits of modern scientific research and innovation.
Since The Apple Grower first appeared in 1998, orchardist Michael Phillips has continued his research with apples, which have been called "organic's final frontier." In this new edition of his widely acclaimed work, Phillips delves even deeper into the mysteries of growing good fruit with minimal inputs. Some of the cuttingedge topics he explores include:
The use of kaolin clay as an effective strategy against curculio and borers, as well as its limitations
Creating a diverse, healthy orchard ecosystem through understory management of plants, nutrients, and beneficial microorganisms
How to make a small apple business viable by focusing on heritage and regional varieties, value-added products, and the "community orchard" model
The author's personal voice and clear-eyed advice have already made The Apple Grower a classic among small-scale growers and home orchardists. In fact, anyone serious about succeeding with apples needs to have this updated edition on their bookshelf.