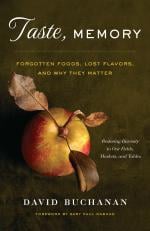 Like this book? Digg it!

Book Data
ISBN: 9781603584401
Year Added to Catalog: 2012
Book Format: Paperback
Dimensions: 5 1/2 x 8 1/2
Number of Pages: 240
Book Publisher: Chelsea Green
Release Date: October 11, 2012
Web Product ID: 697
Also in Food & Health
Taste, Memory
Forgotten Foods, Lost Flavors, and Why They Matter
Foreword by Gary Paul Nabhan
Upcoming Author Events
MACHIAS, ME

October 23, 2014, 6:00 pm

David Buchanan at University of Maine Community Food Series

University of Maine at Machias 116 O'Brien Ave, Machias ME 04654

Title: Heritage Fruit, New Markets Description: Maine has a rich history of fruit and berry production, a wonderful diversity of flavors and traditions. While farming of all kinds has enjoyed a revival in the past decade, orchards have lagged behind, continuing to lose market share. Are there lessons from the past that can help make fruit trees profitable again? Join author and horticulturalist David Buchanan as he talks about experimenting with hard cider, collecting rare foods, and finding a place for them again in our fields and on our tables.

LOUISVILLE, KY

November 10, 2014, 12:00 pm

David Buchanan at Slow Money National Gathering

Slow Money National Gathering, Louisville KY

David Buchanan will speak at the 2014 Slow Money National Gathering in Louisville, KY on November 10-12. More details to come...

Online for US Orders Only
International orders can be placed by phone (802-295-6300) or email
David Buchanan's Upcoming Events
David Buchanan at University of Maine Community Food Series


University of Maine at Machias 116 O'Brien Ave, Machias ME 04654

October 23, 2014, 6:00 pm

David Buchanan at Slow Money National Gathering


Slow Money National Gathering, Louisville KY

November 10, 2014, 12:00 pm