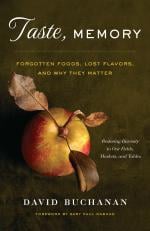 Like this book? Digg it!

Book Data
ISBN: 9781603584401
Year Added to Catalog: 2012
Book Format: Paperback
Dimensions: 5 1/2 x 8 1/2
Number of Pages: 240
Book Publisher: Chelsea Green
Release Date: October 11, 2012
Web Product ID: 697
Also in Food & Health
Taste, Memory
Forgotten Foods, Lost Flavors, and Why They Matter
Foreword by Gary Paul Nabhan
"A Greek proverb states, 'A society grows great when old men plant trees whose shade they know they shall never sit in'. David Buchanan's book about food, agriculture, community, and connections to soil and climate, embodies the spirit and vision of the Greeks. Beyond weaving an engaging narrative about farming, the past twenty years of his life reflect the extraordinary changes occurring in American agriculture and a rediscovery of taste and quality in food. We are indeed fortunate that, as a young man, he has many years to plant apples, peaches, and other notable foods!"

—Jeffrey P. Roberts, author of The Atlas of American Artisan Cheese
One of Amazon.com's Ten Best Food Lit Books of 2012!
Taste, Memory traces the experiences of modern-day explorers who rediscover culturally rich forgotten foods and return them to our tables for all to experience and savor.
In Taste, Memory author David Buchanan explores questions fundamental to the future of food and farming. How can we strike a balance between preserving the past, maintaining valuable agricultural and culinary traditions, and looking ahead to breed new plants? What place does a cantankerous old pear or too-delicate strawberry deserve in our gardens, farms, and markets? To what extent should growers value efficiency and uniformity over matters of taste, ecology, or regional identity?
While living in Washington State in the early nineties, Buchanan learned about the heritage food movement and began growing fruit trees, grains, and vegetables. After moving home to New England, however, he left behind his plant collection and for several years stopped gardening. In 2005, inspired by the revival of interest in regional food and culinary traditions, Buchanan borrowed a few rows of growing space at a farm near his home in Portland, Maine, where he resumed collecting. By 2012 he had expanded to two acres, started a nursery and small business, and discovered creative ways to preserve rare foods. In Taste, Memory Buchanan shares stories of slightly obsessive urban gardeners, preservationists, environmentalists, farmers, and passionate cooks, and weaves anecdotes of his personal journey with profiles of leaders in the movement to defend agricultural biodiversity.
Taste, Memory begins and ends with a simple premise: that a healthy food system depends on matching diverse plants and animals to the demands of land and climate. In this sense of place lies the true meaning of local food.