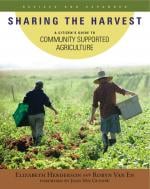 Like this book? Digg it!

Book Data
ISBN: 9781933392103
Year Added to Catalog: 2007
Book Format: Paperback
Book Art: Black and White Photos and Illustrations
Dimensions: 8 x 10
Number of Pages: 320
Book Publisher: Chelsea Green Publishing
Release Date: November 15, 2007
Web Product ID: 382
Also in Gardening & Agriculture
Sharing the Harvest, Revised and Expanded
A Citizen's Guide to Community Supported Agriculture
Foreword by Joan Dye Gussow
Praise
"Community Supported Agriculture has the possibility, even the likelihood, of transforming community, farming, eating, and economics in the U.S. Elizabeth Henderson's update of Sharing the Harvest offers timely tools for keeping this evolutionary movement on track."

—"Farmer John" Peterson, Angelic Organics
"We hunger for a true connection to what's on our plates. We want to know who grows our food and where, how it's grown and why. We want to participate in a food system that is ecological, just, nourishing, and connected to community. The CSA movement offers all this and more. This book is an essential guide to understanding what it's all about, and to making it happen!"

—Jessica Prentice, author of Full Moon Feast
"While Sharing the Harvest can certainly be used as a handbook for those interested in setting up a local CSA, the accompanying 'what' and 'why' are the real message in this wonderful book."

—David White, Academia: An Online Magazine and Resource for Academic Librarians
"If we want to keep farmers in business, it's time for all of us, ordinary citizens and policy makers alike, to begin learning how that might be done. Sharing the Harvest is a great place to start."

—Joan Dye Gussow, from the Foreword
"Sharing the Harvest is an extraordinary book, an opening to a new world in which growing and eating food will be a sharing among humans, between farmers and surrounding communities, not a commercial venture for profit. It is both utopian and practical, inspiring and down-to-earth. It is a treasure, rich with suggestions, exciting for what possibilities it foresees for the human race."

—Howard Zinn, author of A People's History of the United States

US Orders Only.
International Orders: Click here.
Additional Information
Elizabeth Henderson's Upcoming Events
Elizabeth Henderson at NOFA VT Winter Conference


Davis Center, University of Vermont, Burlington VT 05401

February 15, 2014, 12:00 pm