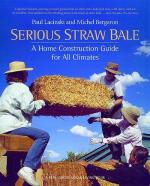 Like this book? Digg it!

Book Data
ISBN: 9781890132644
Year Added to Catalog: 2000
Book Format: Paperback
Book Art: b&w photographs and illustrations, appendices, bibliography, index
Number of Pages: 8 x 10, 384 pages
Book Publisher: Chelsea Green Publishing
Old ISBN: 1890132640
Release Date: September 1, 2000
Web Product ID: 45
Also in Green Building
Serious Straw Bale
A Home Construction Guide for All Climates
Excerpt
from chapter 1

Why Straw Bales?

What is a straw bale house? Why are bales a good choice in a cold climate? Can bale walls be designed to withstand the vagaries of weather, in the snow belt? These are questions we've been asking of ourselves for a good many years, and they have now become the guiding questions behind this book. To begin at the beginning, however, we must ponder this question of why a bit. The idea of building a wall of bales seems to entice people's imaginations. Why bales? We have come to believe that people are searching for alternatives to the plywood palace, to the modular mentality that has come to dominate the mainstream construction industry. Most new houses today are made of the same materials: machined sticks and sheets of wood, plastic, metal, and gypsum. They are all assembled according to the same set of principles, so that once you've built a few, they get pretty boring. Except for that small percentage in which a designer, owner, or builder puts some real thought into creating a form and finish that suits the owner and the site, these houses somehow feel the same.
There are three main reasons that straw bale construction is different. First of all, bale walls look very different from sheetrock walls. They look like the product of a human, rather than the product of a machine. Though bales are a new material (which makes design work challenging and fun), the feel of the finished wall harkens back to the pre-industrial era. It seems that as our lives become increasingly technological, more and more people want to surround themselves with spaces that feel handmade and timeless.
Process is the second reason. Conventional construction is mathematical and precise, while bales and plaster are sloppy and intuitive. These characteristics are inviting to amateur builders, not only because they make bale construction easy to learn, but because they stand in contrast to the obsessive efficiency that most of us have had to accept as a part of the industrial economy. People see bale construction as a chance to cut loose.
Thirdly, bale construction feels like an alternative to ecological waste. It's akin to recycling. Recycling enjoys broad support across the political spectrum, because it's obvious, it's easy, and it gives people a sense that they can at least do something that is not harmful to the planet. While our agriculture is far from perfect, it does produce a lot of straw, so using some of it for construction makes intuitive sense.
Bruce Millard, a thoughtful architect from Sandpoint, Idaho, has developed this idea about building with bales a bit further. "Once people try this type of construction, they absorb it and agree with it, and begin to recognize it as a concept, as a psychological departure from the idea that industry is somehow more sophisticated than nature. It brings the left and the right together; it functions as a stepping block into an ecological way of building and living. People begin to ask, 'How can I put this to work in the rest of my life?'"
Bruce sees the bale itself as a short-lived material. "We will soon realize that straw is very valuable-it will start going into particle board and panelized materials, and it might be mixed with wood fiber for paper production." Bruce uses the bale as an introduction to a whole array of recycled-content panels and blocks.
Bales also tend to serve as an introduction to traditional natural building techniques from around the world, all of which have much longer track records than the bale itself. Loose straw has been used for millennia in combination with clay and sand, for everything from plasters to load-bearing walls. Five-hundred-year-old examples of straw and clay infill are still in use in Germany, and this material has actually been rewetted and put back into wall cavities during restoration. Thatch makes a beautiful, durable, insulative roof. These and other techniques must be explored and developed if we are to continue to create decent housing for future generations on this planet.