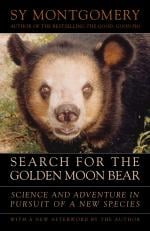 Like this book? Digg it!

Book Data
ISBN: 9781603580632
Year Added to Catalog: 2008
Book Format: Paperback
Book Art: Color photo insert
Dimensions: 5 1/2 x 8 1/2
Number of Pages: 336
Book Publisher: Chelsea Green Publishing
Release Date: July 14, 2009
Web Product ID: 451
Search for the Golden Moon Bear
Science and Adventure in Pursuit of a New Species
With a New Scientific Addendum by Gary Galbreath, PhD
"There is something heartbreaking and life changing about the stories Sy Montgomery tells, something so passionate and questing that it is impossible not to sit up straight, take notice. In her newest volume Montgomery sets out for the steaming cities and rain forests of Southeast Asia in search of answers about the gorgeous, elusive golden moon bear....With an invincible evolutionary biologist at her side, Montgomery fearlessly faces down the chaos and clamor of marketplaces and jungles, the bands of renegade poachers, the nightmare of so many landmine amputees, the restaurants serving bovine afterbirth, the ants that crown hotel toilet seats, the people who carelessly trade on rapidly disappearing wildlife. She stands unprotected in a den of bears and tweezes out their hair for test tube science. She sits at the foot of a monk and listens as he reminds her that, 'Among the blessings of the sweet, fragrant trees, one can discover what wild animals know: in awareness of the moment lies the wholeness of life.' This is a most beautiful and important book--exhaustively researched, persuasively presented, poetic and vital and throbbing with heart."

—Beth Kephart, Book magazine
Sy Montgomery has already shared with readers her amazing encounters with great apes, man-eating tigers, and pink river dolphins, but her latest muse is an animal whose name and appearance evoke another world altogether. Southeast Asia's golden moon bear, with its luminous coat, lionlike mane, and Mickey Mouse ears, was unknown to science—until Montgomery and her colleagues got on the trail at the dawn of the new millennium.
Search for the Golden Moon Bear recounts Montgomery's quest—fraught with danger and mayhem—to reconstruct an evolutionary record and piece together a living portrait of her littleknown subject. This beautiful animal is not just a scientific eureka! It is also a powerful symbol of conservation. Search for the Golden Moon Bear is a field report from the frontiers of science and the ends of the earth, seamlessly weaving together folklore, natural history, and contemporary research into fantastic travelogue.