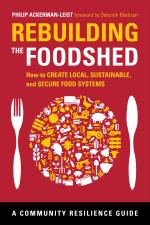 Like this book? Digg it!

Book Data
ISBN: 9781603584234
Year Added to Catalog: 2012
Book Format: Paperback
Book Art: 8-page Color Insert
Dimensions: 6 x 9
Number of Pages: 360
Book Publisher: Chelsea Green
Release Date: January 31, 2013
Web Product ID: 667
Rebuilding the Foodshed
How to Create Local, Sustainable, and Secure Food Systems
Foreword by Deborah Madison
Reviews, Interviews, & Articles
Choice Review:The third volume in the Community Resilience Guide series, this book explores themes similar to those in Michael Bryan's Food Security and Paul Roberts's The End of Food. Just as Michael Carolan recognizes in The Real Cost of Cheap Food, Ackerman-Leist (environmental studies, Green Mountain College) acknowledges the complex, confusing issues associated with local food, without detracting from its counterpoints. Much of Ackerman-Leist's argument focuses on how a locavore approach is articulated within a larger food production cycle. The book is divided into three sections. Part 1, 'Dilemmas,' presents several questions related to the meaning of local food. Sections titled 'Drivers for Rebuilding Local Food Systems' and 'New Directions' follow. 'Drivers' provides excellent discussions of energy and the environment and a fresh look at the implications of food security and food justice, addressing topics such as equitable access, agricultural workers, and different agricultural commodities. The concluding section examines sometimes neglected areas, including current agricultural education or the role of incubator farms, before expanding the concept of local food into community-based food. Ackerman-Leist's task is not simple, but his approach is stimulating and worthwhile. Summing Up: Recommended.
Foreword Reviews: From the Acknowledgements section on, Philip Ackerman-Leist's newest book is highly enjoyable, sincere, and informative. An associate professor at Vermont's Green Mountain College, Ackerman-Leist heads up the Farm and Food Project at the college and has years of experience in homesteading. So, when he asks questions about sustainable and local food, it is from a deeply personal perspective. Readers will appreciate the well-researched arguments and examples, as well as the academician behind them.

Ackerman-Leist embarks on a personal challenge to define these buzzword categories of "local" and "sustainable." He exhaustively tackles all of the logistics of creating a truly local food system as he engages and entertains readers. Key to Ackerman-Leist's goals is engaging more members of the community in local food initiatives. Addressing the growing problem of food insecurity as it relates to underutilized or lack of local food systems, as well as taking on the food justice issue, must be priorities for concerned locavores. In searching for answers, he highlights several groundbreaking citizen/producer-owned programs as well as problematic status quo operations. Getting healthy food into the hands of all people requires that we pull the elitist label off of anyone who has an interest in healthy, local food. The author's writing style entirely succeeds in making an academic line of questioning feel fun, relevant, and accessible to all who are interested.

Ultimately, this is a great book that will catapult readers into a highly critical understanding of the many complex issues with food and localized agriculture in the United States, as well as offer possible solutions. Ackerman-Leist writes with lively panache, an unlikely but somehow well-suited style for talk of such serious problems. This book is highly recommended for anyone who hopes to be part of the evolution.
Publishers Weekly: For a somewhat wonky book about food policy, Rebuilding the Foodshed is unusually humorous and open-minded. Vermont farmer and professor Ackerman-Leist ruminates his way through the conundrums and possibilities of local food, demonstrating how words and their definitions can shed light on and transform our understanding of the rapidly evolving, often confusing, emotion-fraught questions of what people eat, where the food comes from, who has access to what, and how the answers to these questions affect the lives of eaters and growers. Let's call food production farming, he suggests. "Farming is about energy flows. 'Food production' is about a terminal point in the act of agriculture." He finds solutions in the actions of pioneers of food production, distribution, and education, including D-Town Farm—a "step into transcendence" in a deteriorating Detroit suburb that recycles waste to grow vegetables and mushrooms, harvest honey, and help revitalize the devastated local economy. Ackerman-Leist also examines New North Florida Cooperative's farm-to-school program. With insight, he demonstrates how communities can bridge and transcend the "false divides" he pinpoints in the local-food conversation: urban/rural, small-scale/large-scale, local/international, and all/nothing. (Mar.)
Kirkus Reviews: In-depth scrutiny of the modern food system and suggestions on how it should change. Ackerman-Leist (Up Tunket Road: The Education of a Modern Homesteader, 2010) explores how to take food production and distribution away from the mega-corporations and place it in the hands of local communities and small farms. He analyzes energy consumption from the field to the refrigerator; the environment, with "the idea that a sustainable food system is one that begins and ends with the careful management of the foundation of it all: the soil"; and food security—i.e., how to ensure that everyone in the country has enough food to ward off hunger and malnutrition. The author also thoroughly investigates biodiversity of crops and conducts a study of "food systems that embrace a diversity of cultural and economic perspectives." Ackerman-Leist culminates his studies by exploring the latest techniques used to improve food production, such as high tunnels and greenhouses that extend growing seasons or the numerous microbreweries and cider houses that provide delicious products without high energy costs. The author's image of "local food" has morphed over time, just as the whole industry has changed: "The image that comes to mind these days is of dynamic, interlocking systems—a vast network of differently sized pulsing centerpoints connected to one other by means of surging flows that create exchanges of resources, ideas, and of course foods." Dense with information and studded with numerous graphs and charts, this book provides a deeper understanding of what principles need to change in order to create local food environments.
Other Books by Philip Ackerman-Leist