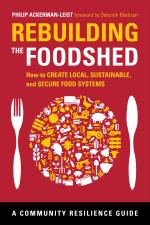 Like this book? Digg it!

Book Data
ISBN: 9781603584234
Year Added to Catalog: 2012
Book Format: Paperback
Book Art: 8-page Color Insert
Dimensions: 6 x 9
Number of Pages: 360
Book Publisher: Chelsea Green
Release Date: January 31, 2013
Web Product ID: 667
Rebuilding the Foodshed
How to Create Local, Sustainable, and Secure Food Systems
Foreword by Deborah Madison
Upcoming Author Events
HOUSTON, TX

May 30, 2013, 8:10 pm

(publicity) Philip Ackerman-Leist on KPFT

, Houston TX

Philip Ackerman-Leist will have a 30-40 min. live phone interview on KPFT's "The Progressive Forum" on Thurs., May 30 at 8:10 pm ET.

EAST LANSING, MICHIGAN

June 19, 2013, 12:00 pmPhilip Ackerman-Leist at 2013 AFHVS / ASFS Conference

, East Lansing Michigan

Philip will present a workshop, entitled "The Foodshed as New Democracy," at the 2013 Toward Sustainable Foodscapes and Landscapes conference. The conference will be held in East Lansing, Michigan, June 19-22 at Michigan State University.

June 20, 2013, 1:00 pm

(publicity) Philip Ackerman-Leist on Heritage Radio

,

Philip Ackerman-Leist will have a 30 minute live phone interview on Heritage Radio's "The Farm Report" on Thursday June 20, 2013 at 1 PM ET.

DENVER, CO

July 13, 2013, 12:00 pm

Philip Ackerman-Leist at Denver Public Library

, Denver CO

Philip will be the featured speaker for Denver Public Library's Grow/Eat Local Summer speaker series.

RUPERT, VT

DURHAM, NC

US Orders Only.
International Orders: Click here.
Additional Information
Philip Ackerman-Leist's Upcoming Events
(publicity) Philip Ackerman-Leist on KPFT


, Houston TX

May 30, 2013, 8:10 pm

Philip Ackerman-Leist at 2013 AFHVS / ASFS Conference


, East Lansing Michigan

June 19, 2013, 12:00 pm

(publicity) Philip Ackerman-Leist on Heritage Radio


,

June 20, 2013, 1:00 pm

Philip Ackerman-Leist at Denver Public Library


, Denver CO

July 13, 2013, 12:00 pm

(publicity) Philip Ackerman-Leist on Easy Organic Gardener Radio Show


,

July 21, 2013, 11:00 am