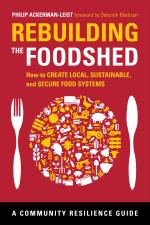 Like this book? Digg it!

Book Data
ISBN: 9781603584234
Year Added to Catalog: 2012
Book Format: Paperback
Book Art: 8-page Color Insert
Dimensions: 6 x 9
Number of Pages: 360
Book Publisher: Chelsea Green
Release Date: January 31, 2013
Web Product ID: 667
Rebuilding the Foodshed
How to Create Local, Sustainable, and Secure Food Systems
Foreword by Deborah Madison
"Phillip Ackerman-Leist has been in the trenches of food-systems change for well over a decade, from farm to school. Now he has elegantly laid out the principles of how to redesign foodsheds for greater food security, justice, and energy efficiency, while engaging communities in making tangible innovations on the ground. He is undoubtedly in the best place to address these issues, since Vermont communities have accomplished more food relocalization than those in any other state."

—Gary Paul Nabhan, pioneer in the food relocalization movement, author of Coming Home to Eat and Renewing America's Food Traditions
A Community Resilience Guide
Droves of people have turned to local food as a way to retreat from our broken industrial food system. From rural outposts to city streets, they are sowing, growing, selling, and eating food produced close to home—and they are crying out for agricultural reform. All this has made "local food" into everything from a movement buzzword to the newest darling of food trendsters.
But now it's time to take the conversation to the next level. That's exactly what Philip Ackerman-Leist does in Rebuilding the Foodshed, in which he refocuses the local-food lens on the broad issue of rebuilding regional food systems that can replace the destructive aspects of industrial agriculture, meet food demands affordably and sustainably, and be resilient enough to endure potentially rough times ahead.
Changing our foodscapes raises a host of questions. How far away is local? How do you decide the size and geography of a regional foodshed? How do you tackle tough issues that plague food systems large and small—issues like inefficient transportation, high energy demands, and rampant food waste? How do you grow what you need with minimum environmental impact? And how do you create a foodshed that's resilient enough if fuel grows scarce, weather gets more severe, and traditional supply chains are hampered?
Showcasing some of the most promising, replicable models for growing, processing, and distributing sustainably grown food, this book points the reader toward the next stages of the food revolution. It also covers the full landscape of the burgeoning local-food movement, from rural to suburban to urban, and from backyard gardens to large-scale food enterprises.

US Orders Only.
International Orders: Click here.
Additional Information
Philip Ackerman-Leist's Upcoming Events
(publicity) Philip Ackerman-Leist on KPFT


, Houston TX

May 30, 2013, 8:10 pm

Philip Ackerman-Leist at 2013 AFHVS / ASFS Conference


, East Lansing Michigan

June 19, 2013, 12:00 pm

(publicity) Philip Ackerman-Leist on Heritage Radio


,

June 20, 2013, 1:00 pm

Philip Ackerman-Leist at Denver Public Library


, Denver CO

July 13, 2013, 12:00 pm

(publicity) Philip Ackerman-Leist on Easy Organic Gardener Radio Show


,

July 21, 2013, 11:00 am