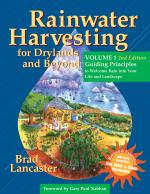 Like this book? Digg it!

Book Data
ISBN: 9780977246434
Year Added to Catalog: 2011
Book Format: Paperback
Dimensions: 8 1/2 x 11
Number of Pages: 304
Book Publisher: Rainsource Press
Release Date: June 13, 2013
Web Product ID: 679
Rainwater Harvesting Vol. 1, Second Edition
Guiding Principles to Welcome Rain into Your Life and Landscape
Upcoming Author Events
BOSTON, MA

February 5, 2015, 2:00 pmBrad Lancaster at New England Grows

415 Summer Street, Boston MA 02210

Brad Lancaster will present a talk on water harvesting at New England Grows 2015, hosted at the Boston Convention & Exhibition Center.

TUCSON , AZ

February 7, 2015, 12:00 pmBrad Lancaster at Sonoran Permaculture Guild 20th Anniversary Design Course

, Tucson AZ

Brad Lancaster will teach at Sonoran Permaculture Guild's 20th Annual Permaculture Design Course in Tucson, Arizona. This course happens over five weekends every February and March. Registration for the 2015 Spring course begins on September 1st and costs $625.

TUCSON , AZ

February 10, 2015, 6:00 pmBrad Lancaster at Tucson Audubon's Annual Gala

10000 N Oracle Rd, Tucson AZ 85704

Brad Lancaster will be the keynote speaker at this year's Tucson Audubon's Annual Gala at the Hilton El Conquistador Resort on February 10th, 2015. This event will run from 6-9:30 PM and cost $150 per individual.