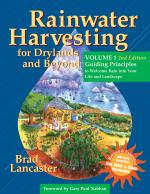 Like this book? Digg it!

Book Data
ISBN: 9780977246434
Year Added to Catalog: 2011
Book Format: Paperback
Dimensions: 8 1/2 x 11
Number of Pages: 304
Book Publisher: Rainsource Press
Release Date: June 13, 2013
Web Product ID: 679
Rainwater Harvesting Vol. 1, Second Edition
Guiding Principles to Welcome Rain into Your Life and Landscape
Upcoming Author Events
IRVINE, CA

May 14, 2015, 9:00 amBrad Lancaster at Coneybeare Cleantech Leaders Conference

1621 Alton Parkway , Irvine CA 92606

Brad will speak on integrated harvests of sun and water at the Coneybeare Cleantech Leaders Conference on May 14th in Irvine, California. Brad's presentation will wrap up the day-long conference, which will run from 9:00 AM-7:00 PM (PST). Early bird and group discounts are available for registration.

TUCSON , AZ

TUCSON, AZ

May 21, 2015, 7:30 pmBrad Lancaster at INHABIT Film Discussion

3233 E Speedway Blvd. , Tucson AZ 85716

On May 21st, Brad Lancaster and other leaders from the Sonoran Permaculture Guild will lead a discussion following a screening of "Inhabit: A Permaculture Perspective," at The Loft Cinema in Tucson. General admission is set at $10.00 for this screening.

SEDALIA, CO

May 29, 2015, 6:00 pmBrad Lancaster at Integrated Social and Ecological Design

2584 N. State Hwy 67, Sedalia CO 80135

On May 29th-June 7th, Brad Lancaster will teach a course on social and ecological design with Pandora Thomas, and Eric Toensmeier through the Woodbine Ecology Center in Colorado. Cost to attend is $1575, with an early bird rate of $1295 before May 1st.