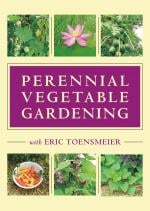 Like this book? Digg it!

Book Data
ISBN: 9781603583695
Year Added to Catalog: 2012
Book Format: DVD
Dimensions: 6 x 9, 143 minutes
Book Publisher: Chelsea Green Publishing
Release Date: December 6, 2012
Web Product ID: 649
Perennial Vegetable Gardening with Eric Toensmeier (DVD)
Upcoming Author Events
HALES CORNER, WI

March 14, 2015, 10:00 am

Dan Halsey and Bryce Ruddock at The Boerner Botanical Gardens

9400 Boerner Drive, Hales Corner WI 53130

Permaculture is the conscious design of landscapes that follow patterns and relationships found in nature, while providing abundant food, fiber, fuel, and shelter for local needs. One of the essential processes in that design process is the creation of perennial plant polycultures or guilds, food forests, and mixed plant and animal communities. Integrated Forest Gardening is a guide to do just that.' Members - $10 Non-Members- $15

SEDALIA, CO

May 29, 2015, 6:00 pmEric Toensmeier at Integrated Social and Ecological Design

2584 N. State Hwy 67, Sedalia CO 80135

On May 29th-June 7th, Eric Toensmeier will teach a course on social and ecological design with Pandora Thomas, and Brad Lancaster through the Woodbine Ecology Center in Colorado. Cost to attend is $1575, with an early bird rate of $1295 before May 1st.