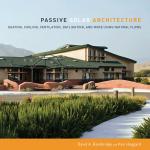 Like this book? Digg it!

Book Data
ISBN: 9781603582964
Year Added to Catalog: 2010
Book Format: Hardcover
Book Art: Full color throughout, photographs and illustrations
Dimensions: 10 x 10
Number of Pages: 304
Book Publisher: Chelsea Green Publishing
Release Date: August 12, 2011
Web Product ID: 540
Also in Green Building
Passive Solar Architecture
Heating, Cooling, Ventilation, Daylighting, and More Using Natural Flows
"This book is a treasure! Drawn from the coauthors' and contributors' decades of successful experience, Passive Solar Architecture is both inspiringly broad in scope and delightfully detailed. City and neighborhood planning is intermixed with many small gems—such as a metal water wall detail to capture winter sun—and examples in climates from around the world. This is a welcome and unique resource for my university seminars in passive heating and cooling."

—John S. Reynolds, FAIA, Professor of Architecture Emeritus, University of Oregon, and Honorary Past Chair, American Solar Energy Society
2011 Bookbuilder's Award: Best in Category for Professional, Illustrated Books
New buildings can be designed to be solar oriented, naturally heated and cooled, naturally lit and ventilated, and made with renewable, sustainable materials—no matter the location or climate.

In this comprehensive overview of passive solar design, two of America's solar pioneers give homeowners, architects, designers, and builders the keys to successfully harnessing the sun and maximizing climate resources for heating, cooling, ventilation, and daylighting.

Bainbridge and Haggard draw upon examples from their own experiences, as well as those of others, of more than three decades to offer both overarching principles as well as the details and formulas needed to successfully design a more comfortable, healthy, and secure place in which to live, laugh, dance, and be comfortable. Even if the power goes off.

Passive Solar Architecture also discusses "greener" and more-sustainable building materials and how to use them, and explores the historical roots of green design that have made possible buildings that produce more energy and other resources than they use.