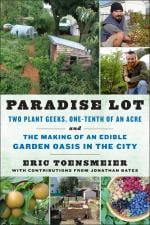 Like this book? Digg it!

Book Data
ISBN: 9781603583992
Year Added to Catalog: 2012
Book Format: Paperback
Book Art: B&W images
Dimensions: 6 x 9
Number of Pages: 248
Book Publisher: Chelsea Green
Release Date: January 25, 2013
Web Product ID: 670
Also in Gardening & Agriculture
Paradise Lot
Two Plant Geeks, One-Tenth of an Acre, and the Making of an Edible Garden Oasis in the City
With contributions from Jonathan Bates
Reviews, Interviews, & Articles
Reviews
Library Journal - STARRED REVIEW: Part handbook, part memoir, this book details the evolution of a permaculture garden on an urban lot in Holyoke, Massachusetts. Having spent years describing permaculture gardens in a theoretical manner, Toensmeier (Perennial Vegetables) and his friend Bates (owner, Food Forest Farm Permaculture Nursery) put these theories into practice when they bought and moved into a duplex situated on a 1/10 acre rundown lot. Nearly a decade later, the lot is unrecognizable—a tropical paradise in the front and a wealth of more than 200 edible plants in the back. Toensmeier clearly explains the processes—needless to say, nothing changed overnight—that achieved this near-miracle. VERDICT: The authors' prose pulls the reader into their lives, sparking a desire to see the result and try this kind of gardening. The appendixes are filled with useful information for readers who may be intrigued enough to create their own paradise. All readers interested in urban renewal or environmental issues will welcome this book.—Keri Youngstrand, Dickinson State Univ. Lib., ND
Foreword Review: Urban agriculture is becoming a hot topic in sustainable farming circles as more people become interested in organic foods, healthy eating choices, and environmental topics. Given population densities in some areas, "urban agriculture" might seem like an oxymoron to some, but with careful planning and a sense of adventure, even a tiny plot of land can yield a bumper crop.

Longtime friends Eric Toensmeier and Jonathan Bates certainly demonstrate the type of strategy and passion required for the effort. In their charming, insightful description of their tiny urban garden in Holyoke, Massachusetts, the two cover twelve years of growing, from their initial reaction to seeing the compacted, gravel-edged soil, to the moment when they have to consider the long-term future of their growing families, which likely means leaving their garden paradise.

Along with relaying various missteps and challenges, Toensmeier (with occasional contributions from Bates) layers together their experiences with natural pesticide controls, wild mushroom foraging, city regulations, berry plants, forest gardens, chickens, having girlfriends move in, trellis systems, and an array of other topics.

Dividing the garden's history into four sections—sleep, creep, leap, and reap— Toensmeier creates a combination of personal memoir and permaculture guide. Filled with insight, but not too technical, he strikes an artful balance between giving useful detail and geeking out on gardening nuances. Although readers who want to learn more about compost and chicken coops may get the most out of their journey, Paradise Lot will still be a delight for someone who can't even grow a houseplant.

As Toensmeier and Bates demonstrate, it doesn't take twenty acres to start a garden filled with nourishing vegetables and gorgeous flowers; it just takes some vision, especially if the potential garden is a scruffy urban lot.

Part gardening guide, part personal story, the book is ultimately a call to action, with the pair proclaiming that it doesn't matter what a patch of land looks like, as long as someone is willing to explore its potential. "We made our little paradise here," Toensmeier writes. "Imagine what would happen if we as a species paid similar attention to all the degraded and abandoned lands of the world. (March) ELIZABETH MILLARD

Booklist Review: With their shared passion for plants and a commitment to creating as self-sustaining a garden as possible on a minuscule lot in a small New England city cursed with a terrible climate and even worse soil, Toensmeier and Bates set about converting their urban backyard into a permaculture paradise. Informed by his work on a seminal, two-volume encyclopedia devoted to the concept of forest gardening, Toensmeier transformed the infertile and debris-laden property behind the duplex he shared with Bates into a natural ecosystem teeming with edible plants. As the authors'postage-stamp-size front yard morphed into a lush, tropical showcase that astounded their Massachusetts community, the backyard incorporated all the components necessary to produce fresh fruits and vegetables year-round using cold-hardy, mostly native plants that would ideally require a minimum amount of work for a maximum output. As a memoir of a purposeful life, Toensmeier's work is engaging, honest, and natural. As a directive to other gardeners eager to establish natural ecosystems in unlikely settings, his work is instructive, illuminating, and inspirational. — Carol Haggas
Publishers Weekly Review: In this charming, true-life tale of urban regeneration and the birth of a forest garden movement, Toensmeier, famous among permaculture enthusiasts for his Perennial Vegetables and as coauthor of Edible Forest Gardens, tells the story behind the Holyoke, Mass., garden featured as a test case in the latter, which, in the course of eight years, he and Bates transformed from a bare backyard wasteland into a flourishing, edible Eden. In true permaculture fashion, the book follows not only the progression of the garden but also its influence on and relations with its creators' lives—including a surprisingly Austen-like romantic element—their neighborhood, and the larger permaculture and forest gardening community. Bates, whose nursery business, Food Forest Farm, is an offshoot of this garden, contributes philosophical and personal essays interspersed throughout the narrative. Fans of Toensmeier and Bates's work will be thrilled to read the details of their experiments with polycultures, their problems with and solutions for pests and overly aggressive plants, and their idiosyncratic plant choices. Adventurous readers with conventional gardens and lawns may be inspired to venture into the more integrated, evolutionary approach that this book so vividly and appealingly portrays. Agent: Kit Ward, Ward & Balkin Agency (Mar.)
Kirkus Review: How two men turned a sterile backyard into a viable garden.
"The front yard was a short, steep slope of asphalt with a tiny strip of sterile gravel and subsoil," write Toensmeier and Bates, with a "backyard that looked like a moonscape, sparely populated with tufts of crabgrass." It was the perfect place to launch their experiment: Could two men with horticultural experience and a love of nature turn a typical compact backyard into a garden full of lush plants and edible food? The authors chronicle their 10-plus years of trials and experiments, as they transformed their "moonscape" into a permaculture of "trees, shrubs, vines, and herbaceous perennials" that produced food at every level. By analyzing their soil and plotting the movement of shade and sun for a year, the authors discovered the prime locations to build a greenhouse and tool shed. They knew where to plant trees and perennials so that they could bring their site to life, and they developed a deeper kinship with the space and with each other. Along the journey, the authors present ideas like sheet mulching, which can transform a lawn into a useful garden plot capable of growing tomatoes and sweet corn in the first year. They also share their thoughts on the plants that can become noxious weeds despite their culinary uses. Toensmeier and Bates discuss both their triumphs and their defeats, as they experimented with chickens, nitrogen fixers, ground covers, numerous kinds of berry bushes and water plants. Although not a how-to guide, the authors give readers plenty of choices and ideas to think about when deciding whether to embark on this kind of gardening.
Living on Earth - For most gardeners, springtime means a time to sow. But for perennial gardeners spring is a time to reap. In their new book, Paradise Lot, gardeners Eric Toensmeier and Jonathan Bates tell their personal stories of finding romance and growing a food forest of perennial plants on a degraded backyard plot. Living on Earth's Bobby Bascomb took a trip to Holyoke, MA to see and sample their spring harvest.
Interviews
Articles
Other Books by Eric Toensmeier