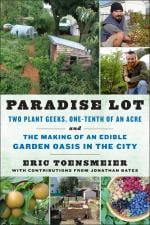 Like this book? Digg it!

Book Data
ISBN: 9781603583992
Year Added to Catalog: 2012
Book Format: Paperback
Book Art: B&W images
Dimensions: 6 x 9
Number of Pages: 248
Book Publisher: Chelsea Green
Release Date: January 25, 2013
Web Product ID: 670
Also in Gardening & Agriculture
Paradise Lot
Two Plant Geeks, One-Tenth of an Acre, and the Making of an Edible Garden Oasis in the City
With contributions from Jonathan Bates
Praise
"Although many of us dream of creating our ideal urban homestead from scratch, the reality is far less pristine: toxic soil, rampant exotic species, outdated codes, and all the other grit of city life. Paradise Lot is a practical manual, based on hard-won lessons, for working positively with the realities of our cities to create a sustainable, peaceful, and abundant oasis in the urban jungle. In this vivid and engaging work, Eric Toensmeier entices us with his journey as an example, explaining what to do, and what mistakes to avoid, to develop our own versions of an edible urban paradise."

—Toby Hemenway, author of GaiaÂ's Garden
"Our connection to place defines us as gardeners and farmers just as much as the plants we choose to grow. The integration of perennial plantings, microclimate, and natural beauty comes about by listening to the land. What a delight to then have one of America's preeminent permaculture teachers share his personal story with both place and partner. Sometimes that meaningful insight we need in shaping our own garden path comes from hearing of the successes and foibles other gardeners found on their path. The gift Eric Toensmeier and Jonathan Bates offer in Paradise Lot is their heart for all things green."

—Michael Phillips, author of The Holistic Orchard and The Apple Grower
"Paradise Lot is a magnificent story about how two young broke landless "plant geeks" transform an urban lot into a permaculture heaven capable of producing all their fruit and vegetables as well as attracting suitable mates. The book is a groundbreaking work on temperate-climate permaculture as well as a personal saga, as the author's discovery and discussion of the differences between theory and practice goes beyond anything in the current permaculture literature. The book has a lot of information on growing and using various perennial food plants and, of particular value, it includes specific accounts of what didn't work and why as well as what did. Paradise Lot should be particularly useful to those with small lots or poor or abused soil. Much writing in permaculture is for people with plenty of land and money. This is permaculture for the rest of us. Best of all, Paradise Lot is fun to read. It overflows with love—love of plants, love of land, love of adventuring on the edge of knowledge, and love of living. It's hard to put down. I read it in two large gulps."

—Carol Deppe, author of The Resilient Gardener and Breed Your Own Vegetable Varieties
"Paradise Lot is a timeless classic of urban permaculture in action that clearly shows design evolution over time. This is a true model of the change the world needs."

—Geoff Lawton, founder of Permaculture Research Institute and creator of Greening the Desert
"Just when I figured I had heard it all in growing food, comes a book that makes me realize I don't know the half of it. Paradise Lot is an amazing, almost unbelievable account of how to grow some 150–200 food- and nitrogen-producing plants on a measly one-tenth of an acre, providing food year round in a cold climate. The authors reveal in great detail how they do this, starting with poor urban backyard soil and using totally organic and permaculture methods. They have raised 400 pounds of perennial fruits and vegetables in addition to many annual vegetables per year in this tiny garden. With more time, knowledge, and labor, they are sure they can produce appreciably more. If you want your imagination challenged and intrigued, this is the book for you. As the authors say, here is proof positive that with proper knowledge and will there is no such thing as food scarcity."

—Gene Logsdon, author of A Sanctuary of Trees and Small-Scale Grain Raising
"Eric has a leisurely, entertaining, and personable way of revealing how his own edible forest garden evolved. Along the way, the reader will learn design guidelines that can be used in virtually any climate. A good read full of insight and science."

—Robert Kourik, author of Designing and Maintaining Your Edible Landscape—Naturally
"Paradise Lot is an inspiring book that encourages exploration of the possibilities of growing edibles in any and every yard, no matter how small. And not only tomatoes or apples, but all sorts of edibles from hog peanuts (taste much better than their name) to pawpaws to mints to jostaberry. Join Eric Toensmeier and his friend Jonathan Bates on their ten-plus-year journey in creating a garden of eatin' in a very small city lot. I can't wait for the sequel!"

—Lee Reich, PhD, author of Grow Fruit Naturally, The Pruning Book, and Landscaping with Fruit

US Orders Only.
International Orders: Click here.
Additional Information
Eric Toensmeier's Upcoming Events
Eric Toensmeier at Food Forest Farm


, Holyoke MA

April 26, 2014, 12:00 pm

Eric Toensmeier at the Omega Institute


150 Lake Dr, Rhinebeck NY

May 16, 2014, 12:00 pm

Eric Toensmeier at Ferme Au Petit Boisé


Ferme Au Petit Boisé, Frelighsburg Quebec, Canada

May 23, 2014, 12:00 pm

Eric Toensmeier at Financial Permaculture & Local Business Summit


, Miami FL

May 31, 2014, 12:00 pm

Eric Toensmeier at Vermont Edible Landscapes


The Teal Farm, Huntington VT

June 28, 2014, 8:00 am