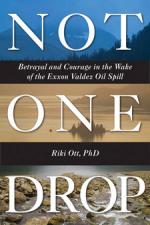 Like this book? Digg it!

Book Data
ISBN: 9781933392585
Year Added to Catalog: 2007
Book Format: Paperback
Book Art: Black and White Photos
Dimensions: 6 x 9
Number of Pages: 360
Book Publisher: Chelsea Green Publishing
Release Date: October 20, 2008
Web Product ID: 375
Also in Nature & Environment
Not One Drop
Betrayal and Courage in the Wake of the Exxon Valdez Oil Spill
Foreword by John Perkins
"Alaska's corporate creatures--and the corrupt local politicians who did their bidding for so long--feared Riki even before the Exxon Valdez because of her intellectual honesty, her energy, her contacts, her expert knowledge and her forensic use of factual argument to demolish the slimy artefacts of the public relations industry. What made her particularly scary was that she'd repeatedly warned them before the disaster that this was going to happen if they didn't shape up. Millions of words have been written about the Exxon Valdez spill. It's been my (sometimes dreary and depressing) duty to read most of them. But of all the official reports, learned papers, TV documentaries, newspaper articles and books, this is by far the best. Riki has written her masterpiece. It's not just about an oil spill and about its dire effects on a community of a few thousand fishing families in a remote and beautiful corner of the North Pacific; it's bigger than that. The themes are community values and corporate lies; the endless tussle between truth and falsehood, between good and evil. Surprisingly, Riki's long-awaited book is more cheerful than I expected; she meticulously logs the catastrophe and its aftermath (and hints at the sacrifices in her personal life that all this campaigning entailed), but out of the despair there is hope here--hope that a better-informed, more vigilant and more self-confident public will follow her example and challenge the corporate arrogance that continues to make so many people's lives an avoidable misery, worldwide."

—Dr. Jonathan Wills, writer, wildlife guide, and Shetland (Scotland) Councillor
"As you read the following pages, allow your heart to break. Imagine Cordova as your home and Prince William Sound as your backyard. When you set the book down, make an absolute, iron-clad commitment to join other men and women who are determined to create a world that future generations will want to inhabit."
– From the Foreword by John Perkins.
Betrayed by oilmen's promises in the 1970s, the people of Prince William Sound, Alaska, awaken on March 14, 1989, to the nation's largest oil spill. Not One Drop is an extraordinary tale of ordinary lives ripped apart by disaster and of community healing through building relationships of trust. This story offers critical lessons for a society traumatized by political divides and facing the looming catastrophe of global climate change.

Author Riki Ott, a rare combination of commercial salmon "fisherm'am" and PhD marine biologist, describes firsthand the impacts of oil companies' broken promises when the Exxon Valdez spills most of its cargo and despoils thousands of miles of shore. Ott illustrates in stirring fashion the oil industry's 20-year trail of pollution and deception that predated the tragic 1989 spill and delves deep into the disruption to the fishing community of Cordova over the following 19 years. In vivid detail, she describes the human trauma coupled inextricably with that of the sound's wildlife and its long road to recovery.

Ott critically examines shifts in scientific understanding of oil-spill effects on ecosystems and communities, exposes fundamental flaws in governance and the legal system, and contrasts hard won spill-prevention and spill-response measures in the sound to dangerous conditions on the Alaska pipeline. Her human story, varied background, professional training, and activist heart lead readers to the root of the problem: a clash of human rights and corporate power embedded in law and small-town life.

Not One Drop is as much an example of how too many corporate owners and political leaders betray everyday citizens as it is one of the universal struggle to maintain heart, to find the courage to overcome disaster, and to forge a new path from despair to hope.