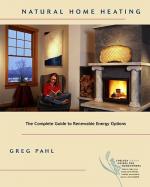 Like this book? Digg it!

Book Data
ISBN: 9781931498227
Year Added to Catalog: 2003
Book Format: Paperback
Book Art: b&w photographs, resources, bibliography, index
Number of Pages: 8 x 10, 304 pages
Book Publisher: Chelsea Green Publishing
Old ISBN: 1931498229
Release Date: September 1, 2003
Web Product ID: 253
Natural Home Heating
The Complete Guide to Renewable Energy Options
"This is the how-to guide on staying warm through the winter without worrying. Author Greg Pahl writes how to reduce your reliance on fossil fuels without reducing the coziness of your home. Written with the homeowner in mind, this guide is organized to help you sort through the myriad of choices in ecological home heating. Take your home out of the 95 [percent] of American homes heated with fossil fuels. Whether you are looking to upgrade your wood stove or convert entirely over to biodiesel, Pahl spells it all out."

—Real Goods
Natural Home Heating is the first comprehensive guide to heating your home with renewable energy sources. Greg Pahl offers a well-organized, easy-to-understand tour of all available renewable home-heating options, including wood, pellet, corn and grain-fired stoves, fireplaces, furnaces and boilers as well as masonry heaters, active and passive solar systems, and heat pumps. Learn how to burn environmentally friendly biodiesel fuels, not just in your car, but in your furnace or boiler. Included is everything you need to know about the fuels, systems, technologies, costs, and advantages and disadvantages of each option. Pahl teaches homeowners how to retrofit existing heating systems and choose renewable replacements, or design an entirely new house that can be heated comfortably with minimal environmental and financial impact.
Consider:
95% of American homes are heated with fossil fuels or electricity (which is generated mainly by fossil fuels).
Oil and gas prices will continue to rise as supplies dwindle and sources become less reliable.
Home heating costs could double or even triple in the event of a fuel crisis.
The use of fossil fuels is the primary contributor to global warming.
There are viable, clean, healthy, and affordable home heating alternatives!
Learn how to burn environmentally friendly bio-diesel fuels, not just in your car, but in your furnace. Find out how a ground-source heat pump works and why it can achieve 400% heating efficiency. Discover what it takes to make burning wood truly sustainable. Natural Home Heating explains all these details and more, making it unique in the marketplace.