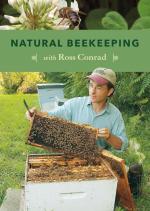 Like this book? Digg it!

Book Data
ISBN: 9781603583275
Year Added to Catalog: 2012
Book Format: DVD
Dimensions: 6 x 9, 3 hours, 13 minutes
Book Publisher: Chelsea Green
Release Date: December 19, 2012
Web Product ID: 624
Natural Beekeeping with Ross Conrad (DVD)
Upcoming Author Events
STATE COLLEGE, PA

February 6, 2015, 8:30 amRoss Conrad at PASA Farming for the Future Conference

215 Innovation Boulevard , State College PA 16803

Ross Conrad will lead multiple beekeeping workshops at the PASA Farming for the Future Conference on February 4th-7th. This conference will be hosted at the Penn Stater Conference Center Hotel in State College, PA. Conrad's workshop will focus on working with honey bee queens, organic beekeeping for beginners and apitherapy.

PHILADELPHIA , PA

February 8, 2015, 10:00 amRoss Conrad at the Natural Beekeeping Symposium

Temple University , Philadelphia PA 19122

Ross Conrad will be the featured speaker at the 5th Annual Natural Beekeeping Symposium on February 8th at Temple University. The cost of attendance ranges from $20 for Philadelphia Beekeeping guild members, $30 for non-members and $15 for Temple students. Click the following EventBrite link to register: https://naturalbeekeeping2015.eventbrite.com

CHESTER, VT

March 14, 2015, 9:00 am

Ross Conrad at the Grafton Nature Museum

397 Main St., Chester VT 05143

On March 14th, Ross Conrad will lead a workshop on health and healing with products from the hive, or apitherapy, in Grafton, VT. This event will take place from 9:00 AM - 1:00 PM in the Newsbank Conference Room at the Nature Museum. This workshop will cover the creation, harvesting, processing and uses (mostly medical) of Pollen, Propolis, Honey, Beeswax, Royal Jelly, and Honey Bee Venom.

LINCOLN , VT

May 23, 2015, 9:00 am

Ross Conrad at Metta Earth Institute

334 Geary Rd S, Lincoln VT 05443

Ross Conrad will teach an Advanced Organic Beekeeping class all day on May 23rd at the Metta Earth Institute in Lincoln, VT. More information to come!

Online for US Orders Only
International orders can be placed by phone (802-295-6300) or email
Additional Information
Ross Conrad's Upcoming Events
Ross Conrad at PASA Farming for the Future Conference


215 Innovation Boulevard , State College PA 16803

February 6, 2015, 8:30 am

Ross Conrad at the Natural Beekeeping Symposium


Temple University , Philadelphia PA 19122

February 8, 2015, 10:00 am

Ross Conrad at the Grafton Nature Museum


397 Main St., Chester VT 05143

March 14, 2015, 9:00 am

Ross Conrad at Metta Earth Institute


334 Geary Rd S, Lincoln VT 05443

May 23, 2015, 9:00 am