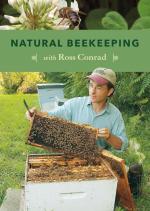 Like this book? Digg it!

Book Data
ISBN: 9781603583275
Year Added to Catalog: 2012
Book Format: DVD
Dimensions: 6 x 9, 3 hours, 13 minutes
Book Publisher: Chelsea Green
Release Date: December 19, 2012
Web Product ID: 624
Natural Beekeeping with Ross Conrad (DVD)
A comprehensive survey of natural beekeeping, its principles and practices, aimed at both hobby and small-scale commercial apiculturists.

"Ross Conrad . . . makes organic apiculture seem not only possible, but necessary."
—Gary Paul Nabhan, co-author, The Forgotten Pollinators
The various chemicals used in beekeeping have, for the past few decades, held parasitic mites and other major pests at bay. But today chemical resistance is building and evolution threatens to overtake the best that laboratory chemists have to offer. In fact, there is evidence that such allopathic treatments are only making the bees' problems worse.
In this filmed workshop, noted Vermont beekeeper Ross Conrad flips the script on traditional approaches by proposing a program of selective breeding and natural hive management. The video presents a comprehensive survey of natural beekeeping methods and challenges, including segments filmed in the field. It offers practical information that every aspiring beekeeper needs to know—everything from basic hive equipment to working with your bees to harvesting and processing honey.
Ross Conrad is the author of Natural Beekeeping (Chelsea Green, 2007), a book that brings together the best organic and natural approaches to keeping honeybees healthy and productive. In the book, Conrad presents nontoxic methods of controlling mites, eliminating American foulbrood disease (without the use of antibiotics), breeding strategies, and many other tips and techniques for maintaining healthy hives, as well as detailed, holistic management techniques covered in a matter-of-fact way.

Online for US Orders Only
International orders can be placed by phone (802-295-6300) or email
Additional Information
Ross Conrad's Upcoming Events
Ross Conrad at the Montshire Museum


1 Montshire Road, Norwich VT 05055

April 4, 2015, 12:00 pm

Ross Conrad at Bennington County Beekeepers Association


325 North Street, Bennington VT 05201

April 16, 2015, 7:00 pm

Ross Conrad at Metta Earth Institute


334 Geary Rd S, Lincoln VT 05443

May 9, 2015, 9:00 am

Ross Conrad at Metta Earth Institute


334 Geary Rd S, Lincoln VT 05443

May 23, 2015, 9:00 am