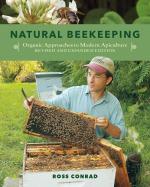 Like this book? Digg it!

Book Data
ISBN: 9781603583626
Year Added to Catalog: 2012
Book Format: Paperback
Book Art: Full-Color Throughout
Dimensions: 8 x 10
Number of Pages: 304
Book Publisher: Chelsea Green
Release Date: February 26, 2013
Web Product ID: 673
Natural Beekeeping, Revised and Expanded Edition
Organic Approaches to Modern Apiculture
Foreword by Gary Paul Nabhan
"Natural Beekeeping is a wonderful book, beautifully written and illustrated, about how one can have healthy hives of bees without using synthetic pesticides, antibiotics, or artificial diets. Ross Conrad explains in fine detail that the key ingredients of organic beekeeping are disease-resistant stock, favorable apiary sites, and good colony management, plus a reverence and respect for the bees."

—Thomas D. Seeley, Cornell University; author of Honeybee Democracy and The Wisdom of the Hive
Best practices for keeping honeybees healthy and productive with strategies for controlling mites, selective breeding for resistant bees, and more—now in full color with updated information.
Today's beekeepers face unprecedented challenges, a fact that is now front-page news with the spread of "colony collapse disorder." Newly introduced pests like varroa and tracheal mites have made chemical treatment of hives standard practice, but pest resistance is building, which in turn creates demand for new and even more toxic chemicals. In fact, there is evidence that chemical treatments are making matters worse.
It's time for a new approach. Now revised and updated with new resources and including full-color photos throughout, Natural Beekeeping offers all the latest information in a book that has already proven invaluable for organic beekeepers. The new edition offers the same holistic, sensible alternative to conventional chemical practices with a program of natural hive management, but offers new sections on a wide range of subjects, including:
The basics of bee biology and anatomy;
Urban beekeeping;
Identifying and working with queens;
Parasitic mite control; and
Hive diseases.
Also, a completely new chapter on marketing provides valuable advice for anyone who intends to sell a wide range of hive products.
Ross Conrad brings together the best "do no harm" strategies for keeping honeybees healthy and productive with nontoxic methods of controlling mites; eliminating American foulbrood disease without the use of antibiotics; selective breeding for naturally resistant bees; and many other detailed management techniques, which are covered in a thoughtful, matter-of-fact way.
Whether you are a novice looking to get started with bees, an experienced apiculturist looking for ideas to develop an integrated pest-management approach, or someone who wants to sell honey at a premium price, this is the book you've been waiting for.

US Orders Only.
International Orders: Click here.
Ross Conrad's Upcoming Events
Ross Conrad at Metta Earth Institute


Metta Earth Institute; 334 Geary Rd. South, Lincoln VT

May 25, 2013, 12:00 am

Ross Conrad at North Carolina State Beekeepers Association


, Southern Pines NC

July 13, 2013, 8:00 am

Ross Conrad at North Carolina State Beekeepers Association


, Southern Pines NC

July 14, 2013, 8:00 am

Ross Conrad at NOFA-MA Summer Conference


, Amherst MA

August 9, 2013, 8:00 am

Ross Conrad at NOFA-MASS Summer Conference


, Amherst MA

August 10, 2013, 10:00 am