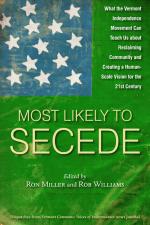 Like this book? Digg it!

Book Data
ISBN: 9781603585026
Year Added to Catalog: 2012
Book Format: Paperback
Book Art: B&W Images
Dimensions: 6 x 9
Number of Pages: 256
Book Publisher: Vermont Independence Press
Release Date: March 1, 2013
Web Product ID: 740
Most Likely to Secede
What the Vermont Independence Movement Can Teach Us about Reclaiming Community and Creating a Human Scale Vision for the 21st Century
"It's clear to anyone with a pulse that we're in terrible trouble: as citizens who need a polity, as humans who need a community, as animals who need a home. For the disillusioned, the dispirited, and the despairing: take heart! A seed of resistance is taking root in a place called Vermont. For the ready, the willing, and the able: take aim—the Gods of Empire can be defeated. Most Likely to Secede, with its intellectual clarity, its moral authority, and its quiet, fierce loyalty to people and place, will show you how."

—Lierre Keith, co-author of Deep Green Resistance
From the annals of Vermont Commons: Voices of Independence news journal
The 21st century United States is no longer a functioning republic, but an unreformable Empire unresponsive to the needs and concerns of its own citizens. Most Likely To Secede features a collection of provocative and forward-thinking essays from 29 contributors to Vermont Commons: Voices of Independence news journal. Written by cutting-edge citizens and entrepreneurs, the essays call for economic relocalization and political independence for Vermont, and, in some cases, nonviolent secession of the state (once its own 18th century republic) from the U.S. of Empire and the peaceful dissolution of the United States as a whole. Exploring well beyond the media-manufactured boundaries of Left and Right, Most Likely To Secede advocates for a 21st century world in which collective decisions about finance, fuel, food, and culture are removed from a centralized corporate imperial United States, and returned to regional and local control. As the only state to once exist as its own republic, Vermont is uniquely poised to lead a national conversation on 2st century decentralization, and Most Likely To Secede shows us the way.