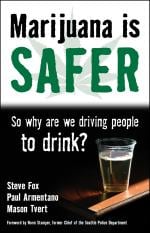 Like this book? Digg it!

Book Data
ISBN: 9781603581448
Year Added to Catalog: 2009
Book Format: Paperback
Dimensions: 5 3/8 x 8 3/8
Number of Pages: 192
Book Publisher: Chelsea Green Publishing
Old ISBN: 1603581448
Release Date: July 27, 2009
Web Product ID: 469
Marijuana Is Safer
So Why Are We Driving People to Drink?
Foreword by Norm Stamper
Praise
"Marijuana Is Safer is both informative and timely. It explains the effects and actions of marijuana upon the body in plain and easily understandable terms. Most importantly, it shows the reader why the use of marijuana is much safer than the use of many if not most legal substances, including over the counter medications, tobacco, and most certainly alcohol. As a physician and public health educator, I highly recommend this book."

—Gregory T. Carter, M.D., M.S., Clinical Professor of Rehabilitation Medicine, University of Washington School of Medicine
"The follies of marijuana prohibition have never been laid bare with more erudition and plain common sense. Marijuana Is Safer: So Why Are We Driving People to Drink? is a book every citizen needs to read, and a question we all have to raise our voices to ask."

—Barbara Ehrenreich, bestselling author of Nickel and Dimed: On (Not) Getting By in America and This Land Is Their Land: Reports from a Divided Nation
"In a society too often paralyzed by fear when it comes to finding smart solutions to our failed drug war, Marijuana Is Safer offers a pragmatic way forward. The authors offer a new and common sense approach to marijuana policy--one that is motivated not by incarceration or punishment, but by reducing the overall harm to our society."

—Rick Steves, travel guidebook writer and TV and radio host
"You'd think that the definitive case against prohibition of alcohol or other drugs had been made by now. But Steve Fox, Paul Armentano, and Mason Tvert offer a provocative new argument: that marijuana is actually safer to use than alcohol, so it's doubly dumb to ban the drug that's actually safer. Abstemious folks like myself may be surprised to hear that, but you'll find some solid evidence in this book."

—David Boaz, Executive Vice President of the Cato Institute, and author of Libertarianism: A Primer and The Politics of Freedom
"Culture and law feel, at times, impossible to change; and then suddenly we find ourselves in a whole new place. America smokes a lot of pot, America drinks a lot of booze, and pot has not always been outlawed--it stands to reason that law and culture will change again. This book seems to herald that change is now upon us. It is smart and clear and feels like common sense. Pot and drink are two drugs people commonly use and one causes a good deal more violence and tragedy. Let's at least legalize the other one. It's an excellent argument. But don't just take my word for it--read the book."

—Jennifer Michael Hecht, PhD, author of The Happiness Myth
"In this thoroughly documented account, Fox, Armentano, and Tvert have performed a public service. They have pulled the sheet off the lie that gave us marijuana prohibition. In truth, it turns out 'The Devil Weed' is safer than alcohol. If that shocks you, you better read this book. It could be a game changer."

—Mike Gray, author of Drug Crazy: How We Got Into This Mess & How We Can get Out
"I have always maintained that the legalization of marijuana would lead to an overall drop in substance abuse in this country. In particular, the option of legal marijuana use, as an alternative to the death and violence associated with alcohol use, would be a welcome societal change. Surprisingly, though, there has never been a book dedicated to conveying this basic idea to the public. But with Marijuana is Safer, now there is. Kudos to Fox, Armentano, and Tvert for their remarkably insightful and important book."

—Gary Johnson, former Governor of New Mexico
"As one who has been entrusted with maintaining the public's safety, I strongly believe--and most people agree--that our laws should punish people who do harm to others. But by banning the use of marijuana and punishing individuals who merely possess the substance, it is difficult to see what harm we are trying to prevent. From my own work and the experiences of other members of the law enforcement community, it is abundantly clear that marijuana is rarely, if ever, the cause of disruptive or violent behavior. That marijuana causes very little social harm is reason enough in a free society to legalize it for adults. But as Steve, Paul, and Mason so brilliantly demonstrate in this book, an even more persuasive reason is that by prohibiting marijuana we are steering people toward a substance that far too many people already abuse, namely alcohol."

—Norm Stamper, former Chief of the Seattle Police Department
"I took great pride in my performance on and off the field, and often questioned why our culture embraces alcohol while simultaneously stigmatizing those who choose to consume a less harmful alternative, marijuana. Marijuana Is Safer makes an irrefutable case for liberating current cannabis policy by comparing and contrasting its use with that of alcohol. This outstanding book makes it clear that it is inconsistent, both legally and socially, for our laws to punish adults who make the 'safer' choice."

—Mark Stepnoski, five-time NFL Pro Bowler and two-time Superbowl champion with the Dallas Cowboys
"Marijuana Is Safer provides an informative, enjoyable, comprehensive look at all aspects of the plant from the cellular to the societal. Readers who are new to the topic will find the pithy summaries of this complex literature easy to follow. Experts will welcome the up-to-the-minute references to the latest work on a vast range of topics. Even the most devoted prohibitionists will soon find themselves scratching their heads as they learn the history and rationale behind current laws. Everyone will finish the text convinced that current policies need a thorough and immediate re-examination."

—Mitch Earleywine, PhD, author of Understanding Marijuana and editor of Pot Politics
"Finally, a book that confronts the half-baked hallucinations of a drug policy gone mad. By adroitly juxtaposing the harms of marijuana and alcohol, the book shows just how badly America has overdosed on senselessly stupid marijuana propaganda and the prohibition laws it produced. If you are one of the millions of Americans who support keeping marijuana illegal but enjoy a good beer, glass of wine or cocktail now and then, I suggest you read Marijuana is Safer, rehab your mind, and get high on the facts. If, on the other hand, you already believe our marijuana laws are illogical, this book will give you hope that change is in the air--and show you how you can do your part to push it along."

—David Sirota, nationally syndicated columnist and bestselling author of The Uprising and Hostile Takeover
"Our current draconian laws prohibiting the use of marijuana by responsible adults are doubly flawed. Not only does such prohibition violate fundamental freedoms but also, as this book documents, it undermines personal health and public safety. Regardless of your views on the civil liberties issues, this book should convince you of another compelling justification for marijuana law reform: that it will promote health and safety for all of us, including our nation's children."

—Nadine Strossen, former President, American Civil Liberties Union, and Professor of Law, New York Law School
"Marijuana Is Safer: So Why Are We Driving People To Drink? is the most extensive and up-to-date book I've ever read regarding adults' relationship with the cannabis plant. If you've ever questioned whether marijuana is an objectively safer alternative to alcohol, this book has the answers. As challenging as its conclusion may be to the political majority, this collection of thought-provoking facts cannot be ignored."

—Rob Van Dam, former World Wrestling Entertainment (WWE) Heavyweight Champion and host of robvandam.com and RVDTV
"As the nation undergoes a shift in its thinking about drug policy,Marijuana is Safer offers a timely and forceful challenge to marijuana criminalization. Anyone with an interest in drug policy, whatever their perspective, should read this important work."

—Alex Kreit, Director of the Center for Law and Social Justice, Thomas Jefferson School of Law

US Orders Only.
International Orders: Click here.
Additional Information
Steve Fox's Upcoming Events
Paul Armentano at Aspen Legal Seminar


, Aspen CO

May 30, 2013, 12:00 am