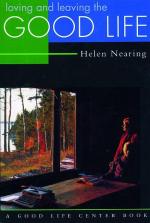 Like this book? Digg it!

Book Data
ISBN: 9780930031633
Year Added to Catalog: 1992
Book Format: Paperback
Book Art: 16-page b&w photo section, selected bibliography
Number of Pages: 6 x 9, 224 pages
Book Publisher: Chelsea Green Publishing
Old ISBN: 0930031636
Release Date: December 1, 2000
Web Product ID: 200
Loving and Leaving the Good Life
Excerpt
excerpt from Chapter 1
No Longer the Two of Us

How will you manage
To cross alone
The autumn mountain
Which was so hard to get across
Even when we went the two of us together?

- Chinese, Seventh Century

When one door closes, another opens . . . into another room, another space, other happenings. There are many doors to open and close in our lives. Some doors we leave ajar, where we hope and plan to return. Some doors are slammed shut decisively - "No more of that!" Some are closed regretfully, softly - "It was good, but it is over." Departures entail arrivals somewhere else. Closing a door, leaving it behind, means opening onto new vistas and ventures, new possibilities, new incentives.
My life was not over and done with, though a chapter ended, when Scott, comrade and love of fifty-three years, quietly breathed away his life at home in Maine three weeks after his hundredth birthday. he went with dignity, purposefully fasting, after along and good life. I had to pick up the reins that had of late been held, though loosely, in his hands.
With Scott gone, I chose to live by myself. I was not lonely; I enjoyed the quiet and solitude, and almost resented the constant calls and visits of solicitous friends. I did not need them. I preferred to be alone if I could not go on living with Scott.
There were many things still to be done. What was to become of the woodland house we had lived in on the banks of Penobscot Bay? Forest Farm was still visited by pilgrims who wanted to see the stone house we had built in our seventies and nineties, the stone-walled garden and greenhouse, and our extensive library. I still entertained almost as many visitors as we had had when Scott was alive and participating. I continued to keep the place as a Good Life Center where people could come to see the wide-ranging files he had kept and the numerous scrapbooks of photographs and letters I had collected after his last birthday and his death day. Here they could obtain his books and sometimes even help maintain the grounds.
He would have wanted an open house, not a memorial museum. That is how I would try to keep it as long as I lived.
I rhymed, in a jingle, a release to him and to the house we had built.

Who will reap what we have built here,
In this house and on this land?
You and I will be forgotten
But our work and house will stand.
Other folk will come and go here;
Others take their places, too.
We will leave our blessing for them:
Happiness in what they do.

I could manage on my own. I knew I mustn't mope. I remembered an ancient Chinese saying: "We cannot help the birds of sadness flying over our heads, but we need not let them build nests in our hair." I would try to live as though Scott were still here. He had been a treasure-house of help in the home. There had been a great sense of security with him around. Now I found myself alone and had to cope with all and everybody.
"Of all mortal beings," wrote Samuel Johnson in a 1780 letter of sympathy to a friend who has lost his wife, " . . .one must lose the other. He that outlives a wife whom he has long loved, sees himself disjoined from the only companion with whom he has shared much good or evil; with whom he could set his mind at liberty, to retrace the past or anticipate the future. The continuity of being is lacerated, the settled course of sentiment is stopped; life stands suspended and motionless, till it is driven by external causes into a new channel. But the time of suspense is dreadful."
My first few months after Scott's passing were a blessed blank in my mind. Friends say I tended to all the usual activities with regularity and apparent cheer, but that there was a distance and a numbness which they sensed. I responded to those who came, but proffered little of myself.
C.S. Lewis has written in A Grief Observed: "Bereavement is a universal and integral part of our experience of love. It follows marriage as normally as marriage follows courtship or as autumn follows summer. It is not a truncation of the process but one of the phases; not the interruption of the dance, but the next figure. We are taken out of ourselves by the loved one when he is here. Then comes the tragic figure dance in which we must learn to be still taken out of ourselves though the bodily presence is withdrawn."
I had always known that Scott, twenty-one years older than I, would very likely go first, but I rarely thought about it. He was so strong, so vital, so charged with life; surely he would always be there. I never envisioned him off the scene. But now it had come and he was gone from sight and sound; no more to work daily in the garden, to toss seaweed into our truck.
No more reading aloud in the evenings by the fireplace; no more trips together around the world; no more books from his pen or cogent comments on world events. He had gone out of our harmonious unity a little ahead of me.
I was given extra time to clear things up, make the right decisions and arrangements for the house, our books and papers, the garden, and then go on myself. I was ready to leave any minute. In fact, the going could not come too quickly. I had had an extraordinarily good life, but was becoming increasingly detached from the details of everyday things. If there had been a shining sea to sink into, I would have gladly relinquished my body to be part of the all. On the other hand, if there was more work to be done when one got over there, I was ready to face that with, please, a little interim between to catch breath and look around.