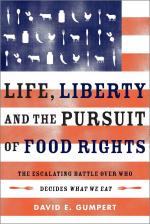 Like this book? Digg it!

Book Data
ISBN: 9781603584043
Year Added to Catalog: 2012
Book Format: Paperback
Dimensions: 6 x 9
Number of Pages: 280
Book Publisher: Chelsea Green
Release Date: May 29, 2013
Web Product ID: 727
Life, Liberty, and the Pursuit of Food Rights
The Escalating Battle Over Who Decides What We Eat
Foreword by Joel Salatin
Praise
"David Gumpert plucks out some of the most salient battles in this current food war and brings them to our awareness with the storytelling genius of a spy novel. The intrigue, the angst, the heartache and heroism are all displayed."

—Joel Salatin, from the Foreword
"This book will get you fired up! David Gumpert makes an eloquent case for the importance of food rights and documents the actions of government regulators against small farms and buyers clubs. These infuriating stories are woven together and contextualized by Gumpert's insightful legal and political analysis. For anyone interested in reclaiming food, this book shows you that you are part of a larger political struggle." author of The Art of Fermentation, The Revolution Will Not Be Microwaved, and Wild Fermentation

—Sandor Ellix Katz, author of The Art of Fermentation, The Revolution Will Not Be Microwaved, and Wild Fermentation
"The 18th century was the century of political rights; the 19th century was the century of women's rights; the 20th century was the century of civil rights. The challenge of the 21st century will be the struggle for food and farming rights. Thanks to the work of David Gumpert in chronicling this ongoing battle, we have a roadmap for establishing the right to access the foods of our choice. Life, Liberty, and the Pursuit of Food Rights is highly recommended for anyone interested in family farms and nutrient-dense food."

—Sally Fallon Morell, president, The Weston A. Price Foundation
"With incredible clarity and masterful storytelling, David Gumpert leads us on a journey into the trenches of America's battle over food rights. No one knows this terrain and understands the implications as thoroughly as Gumpert, and the result is a book that will by turns enrage and inspire you. The battle for the right to nourish our bodies with real food must be won, and this book is an essential part of making that happen."

—Ben Hewitt, author of The Town That Food Saved: How One Community Found Vitality in Local Food
An issue this important should have its own revolutionary flag. The image would show a farmer and a neighbor exchanging food above the classic motto 'Don't tread on me.' This is a revolution that needs to happen. What could be more important to all of us than control over the quality of food we put in our bodies?

—Eliot Coleman, author of The Winter Harvest Handbook, Four-Season Harvest, and The New Organic Grower
"A wakeup call for anyone who eats, Life, Liberty, and the Pursuit of Food Rights is an exposé on the American government's calculated attack and sinister use of brute force on family farmers and consumers involved in the local food movement. Through harrowing tales of government spying and raids, David Gumpert demonstrates how complacency has allowed corporations to manipulate federal agencies and gain complete control of our entire food supply. If you care about what your family eats, read this book."

—Linda Faillace, author of Mad Sheep: The True Story of the USDA's War on a Family Farm
"It seems far-fetched to think that 'police' in black suits would make an assault on what we-the-people have forever assumed was our right to eat what we want to eat. Based on an extraordinary journalistic investigation, David Gumpert makes a compelling case that we are witnessing a concerted national program to shut down the buying and selling of pure, wholesome, unadulterated food—farm by farm and state by state. These assaults, being carried out on farmers in the name of 'food safety,' are jeopardizing our basic liberties, which must include access to foods that keep us healthy. There is no bigger story, and Gumpert has told it in a compelling, highly readable fashion."

—Abby Rockefeller, president of the Resource Institute for Low Entropy Systems and author of the scientific paper "Civilization and Sludge"