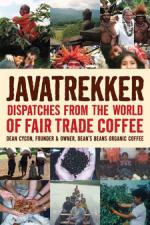 Like this book? Digg it!

Book Data
ISBN: 9781933392707
Year Added to Catalog: 2007
Book Format: Paperback
Book Art: Black and White Photos
Dimensions: 6 x 9
Number of Pages: 240
Book Publisher: Chelsea Green Publishing
Old ISBN: 1933392703
Release Date: October 15, 2007
Web Product ID: 381
Also in Socially Responsible Business
Javatrekker
Dispatches from the World of Fair Trade Coffee
Praise
"Who would have thought that a cup of coffee contained World Bank schemes, indigenous rights, third-world women's empowerment and a wide range of globalization issues? Dean Cycon reveals the worlds within worlds of coffee that have to make us think about the choices we make at the supermarket or café."

—Susan Sarandon, actress and activist
"In spite of all the movements on behalf of fair trade, organic, birds, shade, eco this and that, it's still rare to find someone who is truly working for the farmer's interests and not his own."

—Bill Fishbein, co-founder, Coffee Kids
"At Starbucks, we greatly admire Dean Cycon's entrepreneurial spirit as well as his principles around doing what's right for the farmers. Dean has demonstrated his commitment by the way he manages his business--paying high prices for coffee and building relationships with farmers--and his life, giving generously of his time to support coffee communities through organizations like Coffee Kids and the Coffeelands Landmine Victims' Trust."

—Sue Mecklenburg, vice president for sustainable procurement practices, Starbucks Coffee Company
"Dean is truly a singular character in the world of coffee roasters. He takes an intense interest in knowing the origins of his coffee. While most roasters and importers brag about their 'Third World' experiences, Dean travels to the 'Fourth World,' getting down and dirty with the indigenous groups growing the coffees, way out beyond where most folks will go. He is embraced universally by these groups and hailed as a true brother. His visits to these locations and his ability to bring these coffees to the U.S. market and pay Fair Trade pricing to the growers has brought large scale economic recovery to thousands of small coffee farmers around the world."

—John Cossette, Royal Coffee, Inc.
"Dean Cycon is a born storyteller. . . and he has some extraordinary stories to tell in Javatrekker. Dean is the rare individual who possesses a keen intellect and quick wit, without the taint of cynicism or world-weariness. He's a rebel and a trailblazer with a deep passion for the fundamental causes of fairness, freedom, and environmentalism. Javatrekker is a great read because it is, first and foremost, entertaining in the swashbuckling style of Anthony Bourdain or Jack Kerouac. But Dean's stories possess a depth of spirit and a love for his subjects that many adventure writers lack. And his core subject--coffee--is so universally familiar (and yet little understood) that I believe his potential audience is enormous."

—Stephen Braun, author of the award-winning Buzz: The Science and Lore of Alcohol and Caffeine
"Dean is the kind of competitor that Green Mountain Coffee Roasters appreciates. He keeps us on our toes as both companies strive to make a real positive difference in the world and where we do business."

—Rick Peyser, director of social advocacy and coffee community outreach at Green Mountain Coffee Roasters, Inc.
"Coffee is more than just a drink. It is about politics, survival, the Earth, and the lives of indigenous peoples. Dean Cycon has been involved with indigenous rights, in coffee and in the larger sphere, for the twenty-seven years I have known him. He has a rich knowledge of the people and places of coffee, and knows how to tell our stories in a sensitive, insightful and often humorous way. Javatrekker is a great book for anyone who wants to know what is really going on in their morning cup."

—Rigoberta Menchu, Nobel Peace Laureate and author of I, Rigoberta Menchu and Crossing Borders
"Dean Cycon's experience has ranged from Native communities in North America to the depths of the oceans and remote coffee producing villages and communities internationally. Cycon's analysis and experience, as well as his humorous and engaging style, promise to bring stories to the light of day that would not and could not be told, simply because no one else has his range of experience. Coffee is god to many of us in the morning, and yet, we know so little about its history and present issues. Linking coffee drinkers to the communities is the work of Dean Cycon in an animated, vital and forever engaging manner. Javatrekker promises to be a set of stories, adventures and compelling relationships told for all of us to eagerly read."

—Winona LaDuke, indigenous rights activist, author of All Our Relations: Native Struggles for Land and Life and Recovering the Sacred