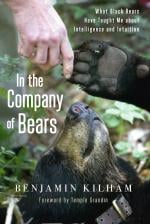 Like this book? Digg it!

Book Data
ISBN: 9781603585873
Year Added to Catalog: 2014
Book Format: Paperback
Book Art: 16-page color insert
Dimensions: 6 x 9
Number of Pages: 216
Book Publisher: Chelsea Green Publishing
Release Date: August 21, 2014
Web Product ID: 831
In the Company of Bears
What Black Bears Have Taught Me about Intelligence and Intuition
"In the Company of Bears is a brilliant revelation about black bears and a paean to human potential. After decades spent caring for orphan bears and releasing them into the wild, Ben Kilham, a dyslexic animal lover, has now summarized what he has learned about their rich social complexity and humanlike intentionality. The result is to turn a supposedly familiar species into a creature of unsuspected acuity. Part science, part intuition, this enticing natural history is a provocative argument about animal minds, and an intimate celebration of life in the New Hampshire woods."

—Richard Wrangham, author of Catching Fire: How Cooking Made us Human; co-director of the Kibale Chimpanzee Project
Imagine raising an orphaned bear cub, carefully reintroducing her to the wild, then being welcomed back, almost daily, to observe her wild world for more than seventeen years. Imagine visiting her in her feeding spots, watching her with her mates and her young, peering into her den, and, over time, observing the lives of all the other wild bears in her territory and surrounding ones. That is what happened to Ben Kilham, whose long-term study of wild black bears has shattered conventional wisdom about how they live their lives.
In the Company of Bears unveils Kilham's groundbreaking work. Like others, he once thought that black bears were solitary. But he discovered that they actually have extraordinary communication and interaction with each other—creating and enforcing codes of conduct, forming alliances, and even sharing territory and food when supplies are ample.
In the Company of Bears (originally released in hardcover as Out on a Limb) is more than a story about bears. It's the story of a scientist once kept from a traditional science career by his dyslexia, only to find that thinking and seeing differently was his greatest gift and his best tool to interpret the non-human world.