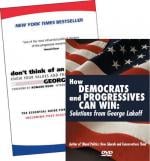 Like this book? Digg it!

Book Data
ISBN: 9781931498821
Year Added to Catalog: 2005
Book Format: Paperback
Book Art: color, 25 minutes, anamorphic, dolby
Number of Pages: 5 3/8 x 8 3/8, 144 pages
Book Publisher: Magnolia Films, Chelsea Green Publishing
Old ISBN: 1931498822
Release Date: January 13, 2005
Web Product ID: 58
How Democrats and Progressives Can Win DVD and Don't Think of an Elephant!
DVD and Book Set
Upcoming Author Events
George Lakoff's Events
SAN FRANCISCO, CA

October 6, 2014, 12:00 pm

George Lakoff at The Economics of Sustainability Conference

Fort Mason, San Francisco CA

George Lakoff is the Richard and Rhoda Goldman Distinguished Professor of Cognitive Science and Linguistics at UC Berkeley, where he has taught since 1972. Previously, he taught at Harvard and the University of Michigan. His research covers many areas of Conceptual Analysis within Cognitive Linguistics, including the nature of human conceptual systems, especially metaphor systems for concepts such as time, events, causation, emotions, morality, the self, politics, etc., and the neural foundations of conceptual systems and language. George is the author of many books, including the New York Times bestseller, Don't Think of an Elephant, Metaphors We Live By, Moral Politics; How Liberal and Conservatives Think, and The Political Mind. He holds degrees from M.I.T. in mathematics and English literature and a PhD in Linguistics from Indiana University. George is American's leading expert on the framing of political ideas and is one of the world's best-known cognitive scientists.
Haydn Reiss's Events