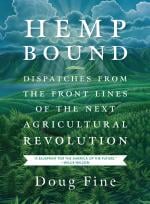 Like this book? Digg it!

Book Data
ISBN: 9781603585439
Year Added to Catalog: 2014
Book Format: paperback
Dimensions: 5.5 x7.5
Number of Pages: 192
Book Publisher: Chelsea Green
Release Date: March 21, 2014
Web Product ID: 791
Also in Politics & Social Justice
Hemp Bound
Dispatches from the Front Lines of the Next Agricultural Revolution
Reviews, Interviews, & Articles
Reviews
"Little noticed on the sidelines during the recent media controversy over Colorado's decision to legalize marijuana was a groundbreaking movement in Congress to lift a decades-long ban on the popular intoxicant's psychoactively inert cousin, hemp. As elucidated in this witty and informative overview of hemp's enormous agricultural potential, New Mexico-based author and radio reporter Fine argues that not much has ever made sense about the stigma U.S. lawmakers have heaped upon this incredibly versatile plant since it was made illegal back in 1937. Although it bears a strong resemblance to the smokable form of cannabis, hemp is almost completely lacking in THC, the ingredient that bestows marijuana's much sought-after 'high.' Hemp's incredibly strong internal fibers have been used in making everything from rope and paper to durable clothing and eco-friendly housing. In 11 engaging, myth-busting chapters bearing titles such as 'Grow Your Next Home' and 'Patriots Ponder Planting,' Fine makes clear that hemp legalization, assuming it happens, could both boost the American economy and spawn a mini hemp based industrial revolution."—Booklist
"What might come back along with legalized pot? Only one of the strongest, most versatile plants in the world: hemp. In his latest, self-described "comedic investigative journalist" Fine (Too High to Fail: Cannabis and the New Green Economic Revolution, 2012, etc.) focuses on the enormous potential applications for industrialized hemp. As the author ably explains, the plant is the government-designated name for all strains of cannabis that have negligible amounts of THC, meaning it can't get you high. However, it can be used as a wildly strong fiber; when the U.S. government passed the Marijuana Tax Act of 1937, suddenly the U.S. Army found itself lacking in decent ropes. It can also create incongruous benefits, like creating nutritious products based on its oil, and can even be used as a potential energy source. To prove his point, Fine chronicles his trips across North America, visiting and profiling entrepreneurs, advocates, farmers and innovators. In Denver, he took a test drive in a hemp oil–powered Mercedes-Benz; in Winnipeg, Canada, he visited a factory where enthusiasts are crafting composite materials from hemp that could potentially be used in automobiles, airplanes or industrial tools like tractors. The author also makes the point that the United States is the largest market for Canada's thriving hemp industry, which is regulated smoothly and profitably by its government. Fine is, of course, an accidental activist, too, but it's hard not to admire his enthusiasm. A short, sweet, logical and funny argument for the potential of one of the world's most dynamic cash crops." — Kirkus Reviews
Interviews and Articles

US Orders Only.
International Orders: Click here.
Doug Fine's Upcoming Events
Doug Fine at Colorado Hemp Coffee Event


Civic Center, Denver CO

April 20, 2014, 1:00 pm

Doug Fine Interview with Food Chain Radio


,

April 21, 2014, 9:45 am

Doug Fine at Bookshop Santa Cruz


Bookshop Santa Cruz, Santa Cruz CA

April 21, 2014, 7:30 pm

Doug Fine Interview with "Upfront"


1929 Martin Luther King Jr. Way, , Berkeley CA

April 22, 2014, 9:30 am

Doug Fine Interview with "Community Matters"


,

April 22, 2014, 1:00 pm