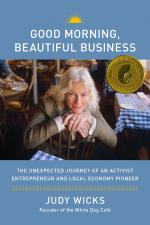 Like this book? Digg it!

Book Data
ISBN: 9781603585057
Year Added to Catalog: 2012
Book Format: Hardcover
Book Art: Color Insert
Dimensions: 6 x 9
Number of Pages: 320
Book Publisher: Chelsea Green
Release Date: March 6, 2013
Web Product ID: 742
Also in Socially Responsible Business
Good Morning, Beautiful Business
The Unexpected Journey of an Activist Entrepreneur and Local Economy Pioneer
Reviews, Interviews, & Articles
Reviews
ForeWord Reviews: Wicks first opened her restaurant, White Dog Cafe, on Sansom Street in Philadelphia in 1983. The restaurant became a beacon in the struggling neighborhood and known internationally for its commitment to farm-fresh, fairly traded, organic food—long before such eating habits were in fashion. Readers will be engaged and invigorated as they watch Wicks succeed with her innovative ideas; they'll also be inspired as her perspective on the world grows in scope from her restaurant to her city to the whole world.

Wicks' memoir begins far before she opens White Dog Cafe, when she built a fort in the woods at age nine. Readers who are expecting strictly business advice and activism information will wonder why she begins here—but the more literary reader will see that she is examining the power of a sense of place. As a child she felt a strong connection to the woods near her house; as an adult she feels a strong connection to Sansom Street, and eventually the world beyond.

Wicks' memoir does a fantastic job of sharing how she's learned and grown through her experiences and travels around the world. Readers will be inspired and will learn about the world and business along the way—but the readers who come away the most satisfied by Good Morning, Beautiful Business will be those who never lose sight of the fact that Wicks is a sharing a memoir, a story; her goal is not to create a guidebook (though she has the skills and expertise to accomplish it).

While it's a compelling memoir, readers who want to follow in Wicks' footsteps would benefit more from a how-to book on the subject that uses Wicks' success as a model, but emphasizes practical steps and advice for readers. Wicks shares her business knowledge and success with readers, but more than that, she shares her heart and her life.

Publishers Weekly Review: Restaurateur and activist Wicks has been an inspiration and a model to her fellow Philadelphia businesses and to adherents to the sustainable-food movement for several decades. This charming memoir follows Wicks from her bucolic small-town childhood to her youthful disillusionment, short-lived marriage to her childhood sweetheart, and early adventures working with him for VISTA in Alaska, where she was struck by the community-focused value systems and vowed to replicate them in her own life. Back in Philadelphia, she and her first husband opened a store selling counterculture products, but, to Wicks's chagrin, her husband ultimately did not have faith in her abilities. After their divorce, and other restaurant experience, she remarried and had two children, whom she raised above the restaurant she founded—the White Dog Cafe. The Cafe gained international acclaim for its socially responsible business, serving farm-fresh local food and building the local living economy movement. Though its audience is likely to be limited to those already sold on the local food movement, this book is a touching and passionate story of an activist who turned her values into a sustainable and financially solvent endeavor. (Apr.)
Interviews
Articles
Other Books by Judy Wicks

US Orders Only.
International Orders: Click here.
Additional Information
Judy Wicks's Upcoming Events
Judy Wicks at American University Alumni


3025 Walnut Street , Philadelphia PA 19104

April 24, 2014, 8:00 am

Judy Wicks at Rosemont Ethics Symposium


1400 Montgomery Avenue, Rosemont PA

April 25, 2014, 10:30 am

Judy Wicks at Financial Permaculture & Local Business Summit


, Miami FL

June 4, 2014, 12:00 pm

Judy Wicks at the BALLE Conference


BALLE Conference, Oakland CA

June 11, 2014, 12:00 pm

Judy Wicks at E.F. Schumacher Lecture


, TBD MA

October 9, 2014, 12:00 pm