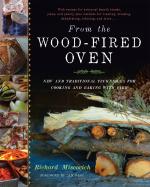 Like this book? Digg it!

Book Data
ISBN: 9781603583282
Year Added to Catalog: 2013
Book Format: Hardcover, PLC
Book Art: Full-Color Throughout
Dimensions: 8 x 10
Number of Pages: 352
Book Publisher: Chelsea Green
Release Date: October 1, 2013
Web Product ID: 757
Also in Food & Health
From the Wood-Fired Oven
New and Traditional Techniques for Cooking and Baking with Fire
Foreword by Daniel Wing
"So, you want a wood-fired oven to bake bread and have pizza parties? What should you build? How does it work? What else can it cook? As an oven-builder I hear these questions a lot, but the books I can recommend for cooking with fire say little about ovens, and the ones about bread and ovens don't take you very far with cooking. So I'm glad to now be able to recommend Richard Miscovich's From the Wood-Fired Oven. He speaks with the authority of a professional baking instructor (and cook), an experienced mason, and a neighborhood baker; he also writes well, takes beautiful photos, and has a wealth of stories to tie it all together. He's worked with leading professionals in many fields, and teaches from extensive experience with bread, pizza, meats, vegetables, desserts, etc., as well as ovens, masonry, fire, heat, and more."

—Kiko Denzer, author of Build Your Own Earth Oven
Most baking books focus simply on how to bake bread or pizza in a wood-fired oven, but From the Wood-Fired Oven is unlike other baking books. From recipes on how to get maximum use out of a single oven firing to the first live-fire roasting or drying wood for the next fire, this book encompasses a wide range of useful topics for home and artisan bakers.
In From the Wood-Fired Oven, leading baker and instructor Richard Miscovich offers a new take on traditional techniques for professional bakers, but presents his ideas simply enough to inspire nonprofessional baking enthusiasts as well.
Most people know that some items can be baked in a masonry oven with the wood fire burning. But many may not know that other foods can be baked after the ashes of that fire have been brushed out, using the immense store of heat that remains in the masonry mass of the oven dome and the oven floor. This book explains how you can easily and naturally use all the conditions of temperature, humidity, and radiant heat that the oven produces as it gradually cools.
What comes first—pizza or pastry? Roasted vegetables or a braised pork loin? Clarified butter or beef jerky? Readers will find methods and techniques for cooking and baking in a wood-fired oven in the order of the appropriate oven temperature.
In addition to an extensive section of delicious formulas for many types of bread, readers will find chapters on:
Making pizza and other live-fire flatbreads;
Roasting fish and meats;
Grilling, steaming, braising, and frying;
Baking pastry and other recipes beyond breads;
Rendering animal fats and clarifying butter; and,
Food dehydration and infusing oils.
Appendices include oven-design recommendations, a sample oven temperature log, Miscovich's baker's percentages, proper care of a sourdough starter, and more.
From the Wood Fired Oven is more than a cookbook. It reminds the reader how a wood-fired oven (and fire, by extension) can draw people together and bestow upon them a sense of comfort and fellowship. Cooking and baking from a wood-fired oven is a basic part of a resilient lifestyle and a perfect example of valuable traditional skills being used in modern times.
Foreword author Dan Wing (The Bread Builders) said this is the book that many in the wood-fired oven world have been waiting for: "We have needed a book that addresses everything a wood-firing baker and cook has to know, and here it is. If you are just starting now to plan a masonry oven—or if you have been using one for twenty years, you are still going to want to own this book."

Online for US Orders Only
International orders can be placed by phone (802-295-6300) or email
Richard Miscovich's Upcoming Events
Richard Miscovich at Bakers' Harvest Conference


,

September 5, 2014, 1:00 pm

Richard Miscovich at Longhouse Food Revival


Longhouse food revival , RENSSELAERVILLE NY

September 13, 2014, 1:00 pm

Richard Miscovich at The Bread Bakers Guild of America


The Bread Bakers Guild, Chicago IL

September 18, 2014, 12:00 pm

Richard Miscovich at Pat's Pat's Pastured


830 South Rd., East Greenwich RI

September 27, 2014, 9:00 am

Richard Miscovich at King Arthur Flour


King Arthur Flour, Norwich VT

October 10, 2014, 4:00 pm