Reviews
Vegan Raw Ranch Blog - February 10, 2011
I just got done reviewing this book from Chelsea Green Publishing Company. It spoke of container gardening and tiered gardening, so my tomatoes could reach for the sun more effectively. Some of the book's suggestions, such as chicken raising, honeybee keeping, composting using worms, cultivating mushrooms, yogurt making, sprouting and backyard fruit. The book covered not only growing foods in any space available, it encompassed the entire mentality of sustainable food production for anyone.
---
Upper Valley Poetry
Wednesday, September 23, 2009
The Inner Gardener
I happened at first, upon this book Fresh Food From Small Spaces by R.J. Ruppenthal (Chelsea Green Publishing) in the local WRj food co-op, recently. Inspired, I am taking it's practices of small space gardening to heart. For awhile, this blog will consist (entirely or nearly) on the struggles, victories and efforts of growing food in small spaces.

After reading the first few chapters of Fresh Food From Small Spaces, I embarked today on my own realization of it's projects and suggested gardening and growing methods. I bought a sprouting jar (which is just a glass jar with a metal mesh cap). And purchased a small amount of alfalfa seeds for sprouting. I followed the instructions in the sprouting jar's handy dandy pamphlet. From there I was off on my bicycle to the other side of the river in New Hampshire, where I bought potting soil and two small plastic pots for growing wheat grass. Already at the food co-op I had bought a significant amount of wheat grass seeds.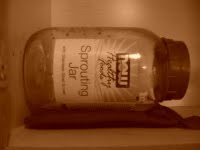 The momentum of Transition Town WRj, is also an inspiring aspect of the green sustainability movement here in central Vermont. Thank you to all the involved vegetables, fruits and people of TTWRj. Already, I have acquired for the price of 5 dollars plus tax, the materials for a cold frame. Check back for developments on making a cold frame and it's aim of winter gardening. The following photo is of a sprouting jar tucked in a high cabinet, and partially (very partially) filled with water and alfalfa seeds.
Gaiatribe
Book Review: Fresh Food from Small Spaces
by Elizabeth Barrette on June 8, 2009
Three stars.
Most books about producing your own food are aimed at rural readers with a substantial amount of outdoor space. This one is aimed at suburban and urban readers with little or no outdoor space. It focuses on "square inch" methods that can get great results from a tiny yard, sidewalk strip, balcony, patio – or even indoor locations such as a windowsill or kitchen.
First the author introduces some reasons for growing at least part of your own food, including climate change, peak oil, health, and flavor. Subsequent chapters explain how to design a food system suited to the space you have and choosing what foods to grow. Then come chapters on buying or building containers for growing vegetables and how to grow plants vertically. Learn about transplants and crop cycling, as well as which varieties of fruits and berries make good container plants.
Later chapters introduce more unusual types of foods that do not require conventional garden space to raise. These include sprouts, yogurt and other fermented foods, and mushrooms. There's also a comparison of the pros and cons of small livestock suited to some suburban and urban areas, such as chickens, bees, and worms. Finally, the author discusses survival during resource shortages, including typical emergencies such as storms and power outages, and ways of helping build a more sustainable future.
Overall, the book is well constructed (and printed on recycled paper). The tone is casual and personal, giving the impression that ordinary people can and do succeed at the activities described herein. The chapters contain plenty of contact information for companies that sell organic seeds, gardening supplies, sprouting gear, mushroom spawn, etc. Black-and-white photographs and charts illustrate key points. Brief notes and resources appear at the end of the book. Alas, there is no index, a significant flaw in a nonfiction book.
Fresh Food from Small Spaces is most useful to novice or intermediate food producers who live in a town or city. This is a good general guide to many subtopics of food production; you could find better books on the individual chapter topics, but that would take a lot more space and you'd have to adapt many things from rural to urban use. This book would also make a nice gift for someone interested in such things, particularly tucked into a basket along with a self-watering planter, a sprouter, or a set of fermentation crocks. Recommended.
Two-Penny Words
Book Review: Fresh Food from Small Spaces

rating: 3 of 5 stars
This book is a good introductory work for people who want an idea of what's possible. It certainly won't tell you everything you need to know, but it's a good place to start.
I particularly liked the discussions of container edibles, backyard fruit varieties, sprouting, yogurt making, and chickens. The sprouting and yogurt making are of particular interest to me since I learned to sprout mung beans from my mom, and my dad used to make yogurt at home. The book often recommends against using metal containers, but for some reason, I recall both my parents using metal containers for whatever it was they were doing, and I do my sprouting in what is quite possibly the same stainless steel bowl my mom used to use.
The book encouraged me to sprout more and to try self watering containers and other container vegetables besides my leaf lettuce. I'd recommend reading this book to get a taste of what you might be interested in trying should you want to grow/make your own food. At the very least, it's an informative read.
digging the district
Thursday, May 29, 2009
Books I like: Fresh Food from Small Spaces
Posted by Michelle at 9:20 AM
Since I'm a fan of both books and plants, I thought maybe I should talk about some books about plants that I enjoy. R. J. Ruppenthal's Fresh Food from Small Spaces: The Square Inch Gardener's Guide to Year-Round Growing, Fermenting and Sprouting really opened my eyes to some of the ways I could be maximizing the limited amount of space that I have to work with. The book focuses not just on growing a vegetable garden, but it also discusses growing sprouts, cultivating mushrooms, chicken- and bee-keeping, and growing small varieties of fruit. The first couple of these, sprouts and mushrooms, can be grown in your apartment even if you don't have any outdoor space, and both allow you to grow and harvest food throughout the winter.

This is the book that also inspired to try growing some small fruits this year. I now have 3 raspberry plants, 1 blackberry bush, and 1 tiny fig tree growing in containers out back, none of which I expect to produce really until next year. Ruppenthal has some great ideas for other berries to grow, even in partial shade (check out this excerpt here for more on this).

Sprouting grains and beans is another activity Ruppenthal has me sold on (another excerpt here. Sprouts contain more nutrients per calorie than any other food and can be grown with a minimal amount of equipment (you could start with a mason jar and some screening) throughout the year. I did order supplies to start growing broccoli and bean sprouts a couple of months ago from Sproutpeople, but sadly the UPS package was stolen from my front porch (oh the joys of Columbia Heights living) and I haven't gotten around to ordering again. I definitely will again though by the end of the summer.

Also included is some good supplementary information in here about composting and vermiculture, and also on making yogurt and fermenting foods. Ruppenthal includes his own plans for building sub-irrigated planters, which are pretty similar to the ones I posted a couple days ago. There's a lot of information packed into this book, and it's definitely worth reading cover-to-cover. Even if you have just the smallest of spaces, you'd be pretty surprised by how much you can grow and harvest.
Abouthyme
Beware. This is a dangerous book. Once you have read it, you will not be able to say: "I don't have enough space (or light, or the right climate, or soil) to grow any food." You'll have to find some other excuse.
Faced with the recognition of climate change, energy depletion, and biofuel competition, even urban dwellers, says R.J. Ruppenthal, may have to "relearn basic food production skills in a hurry, if we are to survive and thrive in this new world" (p. x). Fresh Food From Small Spaces gives you a mini-course in urban food production and encourages you to practice many of the basic gardening techniques we normally associate with large suburban lots and small farms.
What can you grow and where can you grow it? According to Ruppenthal, you can grow most of the usual vegetables (potatoes, beans, carrots, tomatoes, lettuce, cabbage, etc.) and many fruits and berries in containers on balconies, on windowsills, in tiny patio spaces, and in small city backyards. His list of grow-your-own food also includes other strategies you might not have thought of as "gardening," but are equally valuable: growing sprouts (more nutritious than some grains), making fermented foods such as yogurt and kefir (as well as sauerkraut and kimchi), and raising mushrooms. And then there are chickens and bees, and oh, yes, worms and compost. As I said, once you've read and considered Ruppenthal's suggestions, you have no excuse. If you're willing to put in the effort, he says, there's no such thing as "not enough" of whatever it takes to produce up to twenty percent of your own food and enable you to eat homegrown food (as his family does) 365 days a year.
But why bother? Why go to the trouble, when every urban dweller is within a stone's throw of a supermarket? Because, Ruppenthal says, our food supply is not as secure as we think, and in these uncertain times, it is prudent to prepare for short- and long-term disruptions in the food supply. The author says he's not a survivalist, but the strategies and methods he outlines in the final chapter may help urban and suburban residents function in the event of a major disruption, or in a time when cheap resources (oil and gas) are dwindling. And in the meantime, he suggests (and I agree) that we can all move closer to "sustainability living," even when resources are abundant. We need to take charge of our food, he says, and stop trusting industrial agriculture to feed us. (It can't, not forever.) We need to change the world, and we can only do it from the ground up.
An index might have made this passionate, highly readable book a little easier to use, but there are helpful notes and references, an excellent resource list, and most of the information you need to start on a path to square-inch gardening.
Go for it. You have no excuse.
Review written by Susan Wittig Albert, national best-selling author of China Bayles' Book of Days and the China Bayles Herbal Mysteries.
care2
Healthy and Green Living
Gardening in Small Spaces
posted by Ronnie Citron-Fink May 10, 2009 5:11 am
Do you avoid gardening due to a lack of space? Living with limited space should not prohibit you from reaping the benefits of homegrown fresh food. My previous post about kitchen gardens spoke about creating a home garden that is just steps away from your kitchen. Many of the same principles can be employed using a little creativity when growing plants in containers on patios, balconies, rooftops or windowsills.
I recently read, Fresh Food From Small Spaces: The Square Inch Gardener's Guide to Year-Round Growing, Fermenting, and Sprouting, by R.J. Ruppenthal. He claims that it's possible for a person to produce 20% of their own food in a small space. Ruppenthal, a California attorney and professor, has lived in city homes and feeds his family homegrown food 365 days per year. His book is a practical primer for urban food production grown in small spaces. It gives advice on many aspects of container gardening, from growing vegetable crops to making yogurt. The chapter on composting with worms gives a detailed account on how worms generate healthful fertilizer for plants. I knew worms were advantageous to composting, but I was fascinated to learn that using worms for composting will make plants stronger and more pest-resistant.
Here are some questions and answers adapted from an interview with R.J. Ruppenthal:
What if your home has no yard, no soil?
Get a container and fill it with good soil and organic fertilizer. Some low maintenance vegetables include: lettuce, tomatoes, spinach, carrots and beets. Depending on your climate and what you like to eat, you could grow fruit too.
What is a misconception about gardening in a small space?
Conventional wisdom holds that vegetable gardening requires 6-8 hours of direct sunlight per day. Some vegetables can be sprouted inside with space and light restrictions.
How can people who live in small spaces gain more control over what they eat and can they become more reliant?
Growing fresh food is a positive step toward sustainability. With rising food prices, you can save money and lessen your carbon footprint by rescuing the resources that are wasted on food production.
How about urban farmers markets?
Farmers markets are important. They support small farmers, who get a direct local outlet for their produce. City folk are attracted to farmers markets because the food is grown with great care and just picked and people like having a connection to something that is real.
Farm to table promotes sustainable, local agriculture, but backyard or container to table gardens are about as close to nature that your taste buds can get. Do you have a garden at your home? If not, here are 10 inspiring small gardens from Apartment Therapy's, The Kitchen. Do you have a garden at your home?
Ronnie Citron-Fink lives in New York with her husband, two children (when they come home to the nest), two dogs and a cat. Ronnie is a teacher and a writer. She has been a contributing writer for Family Fun magazine. She currently writes articles about education and home design. Her writings are in four books including Family Fun Home and Some Delights of the Hudson Valley.
the kitchn
Book Review: Fresh Food From Small Places
Some people say we should grow more of our own food because the food system as we know it is on the verge of collapse. Other say we should do it as a way to enhance our lives and save the planet. And then there are those who argue that food tastes better when it spends the shortest time between the garden and the stove.
Either way, while growing your own food may seem like a good idea, it is also impractical for those of us who live in urban environments. Between city ordinances and a lack of space, we often don't have much to work with. But R. J. Ruppenthal is here to challenge that with his inspiring new book Fresh Food from Small Places: The Square-Inch Gardner's Guide to Year-Round Growing, Fermenting, and Sprouting.
Mr. Ruppenthal is a knowledgeable, enthusiastic and inspiring champion of growing your own food in what may seem like challenging places. Beginning with the obvious solutions like vegetables in containers, he also suggests vertical gardening, trying out fruits and berries, and even raising chickens and honeybees.
Fresh Food from Small Spaces instructs us on how to manage compost, 'partner' with worms, cultivate mushrooms and make yogurt, kefir, sauerkraut and sprouted grains. This book is packed with information on how to start up a windowsill or terrace garden, or to turn that narrow strip of soil between buildings into a mini-farm. Even if your only goal is to pick a few ripe, homegrown vegetables every now and then, then this book is worth picking up.
If you live in the Bay Area, you can hear Mr. Ruppenthal speak at the Ferry Farmer's Market on Wednesday March 3 at 6:30 pm. Admission is free. For more information visit the Chelsea Green website.
One Minute Critic
One Minute Fresh Food From Small Spaces
Posted April 13, 2009
"Fresh food from small spaces : the square inch gardener's guide to year-round growing, fermenting, and sprouting," by R J Ruppenthal, reviewed. Find this book at your library: http://www.worldcat.org/oclc/225871288
Watch the one-minute video review here.
San Francisco Chronicle
Sophia Markoulakis, Special to The Chronicle
Sunday, March 29, 2009
R.J. Ruppenthal is all about growing the maximum amount of food in the smallest amount of space, and sometimes that means using the back of a kitchen cabinet for mushrooms or the clutter-prone top of the refrigerator for sprouts.
And no, those jars on the counter haven't been neglected, but are actually filled with beneficial microflora, turning common vegetables into the nutritional powerhouse kimchi.
An avid gardener, Ruppenthal has yet to get discouraged living most of his adult life in a small urban space. Any frustration he experienced was from not finding a resource book addressing the challenges of small-space gardening.
So he decided to write the book he couldn't find. "Fresh Food from Small Spaces: The Square Inch Gardener's Guide to Year-Round Growing, Fermenting and Sprouting" (Chelsea Green Publishing, 2008) serves the urban dweller well with practical advice on starting a beginning garden in obvious and not-so-obvious spaces.
"I'd like people to know that you can grow (some of your own) food in small spaces, even if you do not have a big backyard. Balconies, patios, rooftops, windowsills, doorsteps and even countertops and cabinets are all usable spots," says Ruppenthal, who lives in Millbrae and teaches at Evergreen Valley College in San Jose.
The more he gardened, the more creative he became with the space he had. When he ran out of usable ground space he turned to vertical gardening, including vining beans and peas, hanging baskets full of cherry tomatoes and strawberries, and espalier apple and multigrafted fruit trees.
Through trial and error, he realized that many plants could grow without the required minimum light. Granted, carrots might not grow big and greens might not reach their full potential, but these less-developed vegetables were certainly edible.
Once Ruppenthal ran out of exterior space, he turned his attention indoors. "I had heard about sprouting and wanted to try it. In terms of pure production and nutrition per pound, nothing beats sprouts. I started with a jar and then a bag, and then upgraded to a larger sprouter that sits on top of our refrigerator (with a horizontal footprint of about 1 square foot)," says Ruppenthal.
Sprouts aren't the only food that he grows indoors. Mushrooms take up some unused space in a cupboard, though he does point out in his book that there is an initial investment and growers won't realize a return unless they transition from the mere hobbyist to the busy cultivator. Ruppenthal's recent talk at the Ferry Building drew more than 150 people, which proves that there's plenty of interest in urban gardening. Thanks to last fall's victory garden at San Francisco City Hall and this month's announcement of the forthcoming White House garden, more people are getting in on the act, regardless of their status or space.
The National Garden Association predicts that interest in home gardens will grow 19 percent this year, based on seed sales and a telephone survey. Many seed companies have seen their sales soar, especially from first-time gardeners intending to plant in an urban setting.
Ruppenthal points out, "We're seeing a big shift right now back toward home gardening; the economy plays a major part in the timing, but I think a lot of people also have a deepening sense that resource shortages and environmental concerns make home food growing a wise choice these days."
The book is geared toward those unfamiliar with general growing practices and covers topics including composting, seed propagation, crop selection and rotation. Ruppenthal also provides instructions on how to build a self-watering container and discusses how to take advantage of reflective light in an otherwise less-than-perfect growing setting.
He also touches on today's trends of raising chickens and keeping bees.
The underlying theme of the book, though, has nothing to do with pastured eggs and local honey, but more immediate concerns for our future survival in a world where we've forgotten how to perform the simplest homesteading tasks. "I have nothing against buying a few vegetable plants in the nursery, but learning to grow from seed is cheaper and provides more diversity in terms of varieties," he says. "I would like to see people relearn some basic skills for the future, including growing from seed."
Outta space?: R. J. Ruppenthal's "Fresh Food From Small Spaces"
by Jennifer M. aka Baklava Queen @ 4:39 pm on 27 December 2008.
Though I've been lucky to "borrow" my friends' back yard for a garden this year, during the winter I still crave growing something green and edible. But in an apartment with insufficient amounts of direct sunlight, I sometimes find it difficult to grow much of anything.
I know I'm not alone in having that problem, and for those people who don't have access to community gardens to exercise their green thumbs, indoor gardening can seem more of a hassle than it's worth. But R. J. Ruppenthal, in his new book "Fresh Food from Small Spaces: The Square-Inch Gardener's Guide to Year-Round Growing, Fermenting, and Sprouting" (Chelsea Green, 2008), offers hope for pavement-bound urban dwellers. By applying just a couple of his ideas, he claims, anyone can grow up to 10 or 20 percent of their own fresh food indoors, in limited paved spaces, or in small yards.
As garden guides go, "Fresh Food From Small Spaces" is a good introduction to many useful small-scale techniques, complete with an appendix of resources for tools, equipment, seeds, and further information. It covers a lot of ground (so to speak), and even though much of what I read was familiar to me, I still picked up a number of good tips to incorporate into my own gardening. For those who already garden, this may not be a book to add to your collection, as it doesn't sink deep roots into most topics. However, those urban dwellers who are just now looking for ways to grow some of their own food will find many possibilities here for starting your own at-home food production.
Ruppenthal begins by listing many popular food crops and their optimal light and temperature conditions. Surprisingly, many vegetables can grow, albeit a bit more slowly, with just a few hours of direct light per day, and many adapt well to container gardening. He discusses the pros and cons of different kinds and shapes of containers, including a large, deep bin one can build oneself, and encourages the use of self-watering containers. He also reviews soil amendments, the gift of compost, water requirements, companion planting, and, of course, light.
Since light is generally the most critical factor for gardening and all the more precious indoors, he upholds the methods of vertical gardening — terracing, trellising, and tumbling (hanging plants) — as the best means to maximize available light. Reflected light offers nourishment, too; additional light can be absorbed from walls and reflectors as needed.
For those people with some outdoor space, even very limited amounts, Ruppenthal offers the tantalizing possibility of growing fruit, from trees as well as berry plants and canes. Dwarf varieties of many tree fruits are now available and adapt well to planters. Noting that small crops may have difficulty in attracting pollinators, he recommends planting herbs and flowers nearby to help the fruit trees flourish.
Beyond the customary fruit and vegetable crops, Ruppenthal touts the advantages of sprouting. No longer the perceived province of "health-food nuts," sprouting can "produce armloads of fresh food every week, from pennies' worth of seed, using just one or two square feet of space that does not need to be well lighted." He discusses the nutritional value of sprouts and points out that this method can help you prepare grains and beans in a way that takes advantage of all the nutrients they can offer. And if you have no idea how to use them other than on salads, he lists several recipes to help you incorporate sprouts into meals more fully.
In addition to sprouting, he includes a chapter on fermentation, chiefly in yogurt, kefir, sauerkraut, and kim chi, as another way of growing food or, as he describes it, "'farming' beneficial microflora that help produce your own superfood." He also describes growing mushrooms as a way to use dark closets for food production, and for those lucky souls with a little yard space, he suggests raising chickens for eggs or bees for honey (as long as local ordinances permit).
Ruppenthal's ideas for such small-scale food production come not just from the desire to see more people grow their own food. He also discusses the concepts of peak oil and climate change and encourages readers to find ways to scale back their energy use and to prepare for emergencies through food production. In all these methods, he mentions what steps or equipment may be more energy-intensive (such as grow lights or automatic sprouters), and he outlines ways to close the cycle and return wastes to the soil through compost. (He doesn't address the question of urban pollution when discussing outdoor plantings in the city, though that, too, is a valid environmental concern.)
Given the recession, his last two chapters — on the true cost of food and how to expand gardens in tough economic times — seem particularly relevant. For the latter, he emphasizes planning the garden space to return the most calories for the household, beginning with larger-scale sprouting indoors so as to make more room in vegetable plots for "high-carb crops" such as potatoes, grain, or corn. Above all, he reminds the reader to keep the big picture in mind and to continue amending the soil: "Build up the soil in your own garden; nothing is more local, organic, or nutritious than what you can grow yourself. Your wealth is in this soil and in the skills you can apply to help you produce food."
By Warren Johnston
December 5, 2008
This is the book for people who live in apartments, townhouses or other city or town dwellings without a lot of space in the yard, but it also has a lot of useful information for people who do have a little land.
In Fresh Food From Small Spaces author R.J. Ruppenthal shows how to produce a significant portion of your food in an insignificant amount of room.
The book is a step-by-step guide to selecting plants, preparing the garden as well as growing such alternative crops as mushrooms and sprouts in dark spaces. There also is good information about planting with cold frame beds and solar bells, which are useful during the colder months.
The information in the book about raising honeybees and chickens as well as composting and making fermented foods also are useful no matter where you live.
Ruppenthal is an attorney and professor at Evergreen Valley College in San Jose, Calif. His expertise in urban and indoor gardening has come from years of trial-and-error experience. He and his family have been able to raise homegrown food 365 days a year in their small city home.
With planning, tight areas can produce high yields
October 27, 2008 - 11:10am
By DEAN FOSDICK
For The Associated Press
(AP) - Urban dwellers short of garden space have options when trying to stretch the family food dollar by growing their own produce. And it's not such a bad thing that they must think small.
Large yields can be had from tight areas. It just takes some planning.
The darkest closet, for instance, can serve as an indoor mushroom patch. Kitchen countertops can be used for growing culinary herbs. Strawberries thrive when planted in multitiered pots near south-facing windows.
Leafy salad greens will mature quickly and repeatedly despite subdued indoor lighting. And family-size orchards can produce fruit for a month or more on patios or rooftops with dwarf trees bred to tolerate containers.
"I know of people who have bought starter kits for growing mushrooms in their bathtubs," said R.J. Ruppenthal, author of "Fresh Food from Small Spaces: The Square-Inch Gardener's Guide to Year-Round Growing, Fermenting and Sprouting" (Chelsea Green Publishing, November). "No space is too small or too dark to produce food."
Ruppenthal, a lawyer and college instructor from San Bruno, Calif., said he has gardened productively despite living in apartments or condominiums most of his adult life.
"We have managed to raise a sizable chunk of our own fresh food from balcony and windowsill vegetable gardens, a kitchen-based sprouting operation, yogurt and kefir (cultured milk drink) fermentation, and a worm composter in the garage, which provides a rich source of fertilizer to feed our plants," Ruppenthal said.
Sprouts are a great source of fresh food, especially for people lacking in garden space, he said.
"Nutritionally, they're power packed. And when you grow other small things like salad greens, you can get a lot more production per space than you can if you're growing tomatoes."
Check before planting, however, to make sure you're not breaking any laws or any provisions of your apartment lease. Plants placed on fire escapes may be a safety hazard, and gardens on balconies could exceed load limits.
Here's how to get more production from small spaces:
Succession planting is important if you hope to enjoy a continuous harvest. "Always be thinking about the next crop and get it started someplace else," Ruppenthal said. "Cycle those things into the growing garden."
Take advantage of reflected or artificial light. "That doesn't mean putting up aluminum foil as much as it does taking advantage of the sunlight that reflects off windows and south facing walls," he said. "Also, when there's been a porch light or patio light left on at night, I'm always amazed at how much that contributed to plant growth at places where I've lived."
Include some companion plants, which can be as attractive as they are edible. "If you add flowers, that might attract bees to help with vegetable pollination. The right varieties might also repel some of the bad insects."
Consider growing berries or small fruits that can cope with cramped spaces and low light. "People might not normally think of growing a raspberry plant or lemon tree in their apartments, but it's amazing how much one small bush or tree can produce over time," Ruppenthal said. "You're talking about a month's worth of fresh fruit for an entire family."
Self-watering boxes are great for urban gardeners. "Tomatoes and carrots just go wild in those things, which keep plants warmer and wetter than when they're grown in the ground," Ruppenthal said.
Direct some plants straight up or down. "Thinking vertical is a must if you're hoping for some cucumbers or pumpkins or squash," said Greg Stack, a University of Illinois extension horticulturist who works with gardeners in the Chicago area. "You also can grow beans and peas, grapes and berries on trellises, balcony rails, hanging baskets, on supports or along fences. Plant them in pots, and then train them to climb."
Inter-planting. Plant two crops in the same row at the same time. One will mature before the other and, when harvested, leaves room for the second crop to develop. "An example would be to plant both radish and carrot seed," Stack said. "The radish will germinate and be harvested in about 20 to 25 days, leaving room behind for the later-maturing carrots."
Library Journal
Many gardening books describe ample land and space as being a prerequisite for growing flowers, plants, and food. And the ever popular container gardening books, generally written for those with little land or space in which to garden, do not always cover the question of raising fresh food that way. Ruppenthal, a business professor and lifelong trial-and-error gardener, here fills a gap in gardening literature and helps readers discover techniques for sustainable food production—even on a small scale—by using every square inch of space that is available to them. His book walks gardeners through assessing their available space and its lighting, deciding what to grow in the spaces they have, and buying (or building) vegetable garden containers. Using his techniques, gardeners will learn to grow herbs, vegetables, fruit, grains, and mushrooms, as well as raise chickens and honeybees and produce fermented foods such as yogurt. It may be nearly impossible to live completely off the grid in an urban environment, but through practice, patience, and creativity, it is possible to establish such a productive urban garden that you can eat some homegrown, fresh food every day of the year. Highly recommended for public libraries, special and academic libraries with strong agricultural collections, and all those who are serious about producing food and creating a more sustainable lifestyle. (Photos, table of contents, and index not seen.)
—Eboni A. Francis, Ohio State Univ. Libs., Columbus