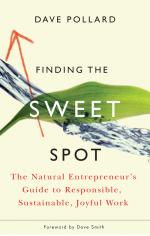 Like this book? Digg it!

Book Data
ISBN: 9781933392905
Year Added to Catalog: 2008
Book Format: Paperback
Book Art: With Illustrations
Dimensions: 6 x 9
Number of Pages: 224
Book Publisher: Chelsea Green Publishing
Release Date: August 20, 2008
Web Product ID: 413
Also in Socially Responsible Business
Finding the Sweet Spot
The Natural Entrepreneurís Guide to Responsible, Sustainable, Joyful Work
Foreword by Dave Smith
Praise
"Helpful charts and exercises guide the reader in finding where their purpose, passions and gifts intersect; and bite-sized case studies of entrepreneur success studies abound and help illustrate his points. . . [A] useful and much-needed book."

—Publishers Weekly
"I love love love the book, wow--it needs to be so much more than just a book! Finding the Sweet Spot explains why it's crucial to spend time up-front with prospective customers, to discover and understand (and help them understand!) what they need. And then to work with them to co-develop the solution."

—Kathy Sierra, author of the Creating Passionate Users weblog and the Head First book series
"Everything I know about life, work, the environment, and entrepreneurship tells me that Dave Pollard is right. Do yourself and the world a favor and read this book."

—Thomas H. Davenport, President's Distinguished Professor of Information Technology and Management, Babson College
"Dave Pollard is a bridge between two worlds--the world of liberated imagination and the world of bottom line results. If you are serious about making innovation real in your life, read this book."

—Mitch Ditkoff, author of Awake at the Wheel: Getting Your Great Ideas Rolling (in an Uphill World) and co-founder and President of Idea Champions
"In Finding the Sweet Spot, Dave gently but firmly guides the reader toward finding their true calling in life. I am going to ask everyone I love to read it. I'm particularly struck by the message that you can't go it alone, and by the fundamental importance of social ties, both strong and weak; how engagement with the wider community around you, through social networking and respect for all of your stakeholders, is key to the success of a Natural Enterprise."

—Christian Crumlish, author of The Power of Many: How the Living Web is Transforming Politics, Business, and Everyday Life
"In Finding the Sweet Spot, Dave Pollard has brought forth a keen understanding that unites the latent desires so many people have to exchange their day-to-day lives for ones with meaning, character and purpose and the needs of sustainable, thriving, twenty-first century communities. It has long been said: to make change, begin with yourself. Dave's approach will make many who want change but feel worn down by their lives find a path to reconnect with their values--and begin anew, by finding their own 'sweet spot' of passion for their work, and the places and people that will fill their lives."

—Bruce A. Stewart, futurist, philosopher, writer, and CEO of Accendor Research
"Have you been waiting for the moment to just frigging do something about having a satisfying work life? Then pick up this book! Don't let your fears or objections stop you. Follow the path Dave lays out and you will not only make your life better, you'll make the world a better place through the reflected joy of your own fulfillment and by meeting real needs with new business ideas. Do it!"

—Nancy White, founder of Full Circle Associates
"The successful innovators I know constantly struggle to balance the passion they need to push ahead and the dispassion essential to integrity. Finding the Sweet Spot does a superb job of packaging, prioritizing and explaining how to achieve the balance that empowers sustainable innovation."

—Michael Schrage, MIT Researcher and author of Serious Play
"Store shelves are full of books that plow already plowed ground. Only rarely does a book take us into a whole new territory. This one does. Dave Pollard proves again that he is not only a brilliant thinker, but one with deep heart and soul--one who is values driven, not circumstance driven. Here's a remarkable look at the question of meaning (personal and societal) in our work and lives. With an uncanny ability to make meaning on a human scale, Dave's unwavering honesty and clear process make this a must-read. I only wish it had been written 20 years ago. This is exactly the right message for these economic times."

—Patti Digh, author of 37 Days weblog, Life Is a Verb, and Global Literacies: Lessons on Business Leadership and National Cultures, and co-founder of The Circle Project
"I finished Finding the Sweet Spot in one night, but I carried it around with me for two weeks after, for no other reason than I wanted people to ask me what I was reading. It worked. This book led to a series of blissfully rich conversations with friends and strangers alike, and something in my heart believes that it's because we all have in us a deep and heartfelt desire to ask and pursue the crucial questions it addresses."

—Siona van Dijk, Director of Gaia Community (Gaia.com)
"It's an act of high hubris to ask a vitriolic critic of print publishing, and of professional advice-giving, and of mindless entrepreneurship like me to read a book of advice for entrepreneurs--unless it's a good and useful book, like this one. No advice can change the world, if you leave it on the shelf. But if you read this you can see the crucial threads Dave Pollard has woven together. And then maybe you can change the world. Go do that."

—Bill Tozier, Vague Innovation, LLC, and co-founder of NotAnEmployee.org
"I love this book; it is beautifully written. I believe that in a few years time the majority of people and businesses will be working passionately and productively for the benefit of society and each other. I believe that the conventional, exploitative model of business will fade away and be replaced by something which is better, more profitable and more sustainable socially and environmentally. That is not to say that the conventional business model is bad; it has brought us much affluence. It is just that its time has passed and we need to move on. Finding the Sweet Spot brings that day much closer with its practical and well informed approach. Anyone who reads this book will not spend another day feeling frustrated by the way they make their living. With the help of this book they will find a way to turn their passions into profit for themselves and for us all."

—Neil Crofts, author of Authentic Business (www.authentictransformation.co.uk)
"I can't believe this essential book has never been written before! Thanks to Dave Pollard, it's here now, and now that it is let's make it required reading for all those young people (and many others, like those about to embark on career number two, three, or four) who need a hand charting a course to the future they are about to invent. If I had this book when I was 22 (several eons ago), I might have shaped my random journey more coherently; I'm certain it will help countless others."

—John Abrams, founder and CEO of South Mountain Company and author of Companies We Keep: Employee Ownership and the Business of Community and Place
"Dave Pollard explains why finding your right work is a good thing for you and for our society and our planet. He offers unique perspectives on work, enterprise and social responsibility that resonate as true. This is an important book. Read it for yourself, and also for the rest of us."

—Dick Richards, author of Artful Work and Is Your Genius At Work?
"Finding the Sweet Spot provides a holistic framework for entrepreneurship. It can help you discover your own power, find the right partners, and experiment at the margin of what you know and the human needs you can fulfill. Fostering a Natural Enterprise is not only more fulfilling, but a sustainable competitive advantage every entrepreneur should explore. This book can help you discover what you were meant to do, find and fulfill unmet human needs and make it sustainable. If you consider yourself an entrepreneur, or want to unleash your creative side, or want to be an agent of positive change, or if now is the time for broader perspective--share this book."

—Ross Mayfield, Chairman, President, and Cofounder of Socialtext
"With a welcome vigour Pollard reinterprets many of the tools of management for the entrepreneur. Straightforward and plain-speaking without shortchanging the complexities of creating value, Finding the Sweet Spot is a book for grown-ups who want their work to make them feel like a kid again."

—Michael E. Raynor, coauthor of The Innovator's Solution and author of The Strategy Paradox (www.michaelraynor.com)
"Dave Pollard is an undaunted observer of our world. He navigates its challenges and promises with passion and curiosity and an eye to designing a path of personal and social sustainability. No 21st century citizen should travel without this map!"

—Chris Corrigan, Principal at Harvest Moon Consultants, Ltd.
"We emerge on Earth with two big questions: whom will I love? and what should I do? Dave's book won't help you much on the first question, but it's fabulous for the second. 'What should I do?' isn't just about how to occupy your time, or to work to live (or even to live to work). It's about how to find your right livelihood, the magic combination of skills, passion, and opportunity that feels effortless and worthwhile. Read this and learn how."

—Jerry Michalski, CEO of Sociate.com and founder of the Yi-Tan Collective