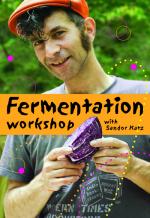 Like this book? Digg it!

Book Data
ISBN: 9781603582667
Year Added to Catalog: 2010
Book Format: DVD
Book Art: Additional one-on-one interview and two recipes
Dimensions: 1 disc
Number of Pages: 110 minutes
Book Publisher: Chelsea Green Publishing
Release Date: September 30, 2010
Web Product ID: 543
Fermentation Workshop with Sandor Ellix Katz
Upcoming Author Events
ATHENS , OH

April 2, 2015, 5:30 pmSandor Katz at Ohio University

1 Park Place, Athens OH 45701

Sandor Katz will present at Ohio University in Athens on Thursday, April 2, 2015. Sandor's presentation will take place from 5:30–7:00 PM in the Baker Center Theater on campus. This event is free and open to the public.

WHITWELL, TN

April 10, 2015, 10:00 amSandor Katz at Food For Life

1233 Cartwright Loop, Whitwell TN 37397

Sandor Katz will keynote at Moonshadow for the annual Sequatchie Valley Institute Food for Life event from April 10-12th. The three-day program has an income-based sliding scale of $100-$200, with full and partial work trade scholarships available.

LIBERTY , TN

April 15, 2015, 12:00 pmSandor Katz at Fermentation Residency Program

Walnut Ridge , Liberty TN 37095

Sandor Katz will hold a week-long fermentation residency program at Walnut Ridge in Liberty, TN on April 15-22. This program is an opportunity for individuals who already have some fermentation experience to deepen and broaden their fermentation practice and thinking. This 7-day program requests a sliding scale fee of $350-1000.

ASHEVILLE , NC

May 24, 2015, 12:00 pmSandor Katz at Ashevillage Sanctuary

80 Buchanan Ave, Asheville NC 28801

This comprehensive workshop is led by the world renowned fermentation expert, and New York Times best selling author, Sandor Katz. He will lead you in daily hands-on fermentation projects and classes. Along with Sandor, five of Asheville's top wild food experts -Alan Muskat, Natalie Bogwalker, Marc Williams, Asia Suler, and Luke Cannon- will take you on field excursions to discover, taste, and learn how to work with nutritional edibles you can find most anywhere. Demonstrations, lectures, food tastings, and community gatherings will all be included. In this workshop, you will learn how to nourish yourself and heal your body with fermented foods, as well as identify and prepare wild and medicinal edibles that you can integrate into your kitchen and daily diet. If you are a food connoisseur, aspiring naturalist, chef, health professional, urban homesteader, or hungry student, you will gain life-long wisdom from this week-long immersion.



SEVEN SPRINGS , PA

RED BOILING SPRINGS, TN

November 7, 2015, 1:00 pmSandor Katz at Long Hungry Creek Farm

2500 Heady Ridge Road, Red Boiling Springs TN 37150

Sandor Katz will lead the Annual Harvest and Kraut-Chi-making Workshop at Long Hungry Creek Farm in Red Boiling Springs, TN, with Jeff Poppen, the legendary "barefoot farmer."Harvesting will take place at 10:00 AM, while the fermentation workshop will begin at 1:00 PM. Bring cutting boards, knives, graters, and jars to fill with veggies.