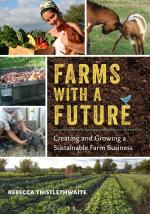 Like this book? Digg it!

Book Data
ISBN: 9781603584388
Year Added to Catalog: 2012
Book Format: Paperback
Book Art: B&W images
Dimensions: 7 x 10
Number of Pages: 306
Book Publisher: Chelsea Green
Release Date: December 3, 2012
Web Product ID: 699
Farms with a Future
Creating and Growing a Sustainable Farm Business
Foreword by Richard Wiswall
Reviews, Interviews, & Articles
ForeWord Reviews: As a farmer and sustainable agriculture consultant, Rebecca Thistlethwaite understands how important it is to share information about small farmers who have redefined success, finding ways to sustain their families, their communities, and the planet. The stories of innovative farmers who have embraced their "inner entrepreneur" fill this collection and serve as ample inspiration for readers who are dreaming of their own farming ventures, as well as those who are searching for new approaches.

With chapters organized around specific principles such as "Identifying Your Market Niche" and "Harvesting and Processing," the emphasis of Thistlethwaite's book is incorporating necessary tools for survival and profit in a family-based business. In each chapter, case studies of a variety of farms across the United States are told through inviting stories, bringing each principle to life. From the Amaltheia Organic Dairy, in Montana, which explores record-keeping and regulatory compliance in Melvyn and Sue Brown's goat farm, to Minnesota's Hoch Orchard and Gardens, which articulates the need for eagle-eyed accounting practices and financial management, every aspect of small farming businesses is examined and made clear through detailed examples.

In perhaps the most inspirational story of the book, in the "Equipment and Infrastructure" chapter, the story of Matt and Jerica Cadman's Shady Grove Ranch, in Texas, demonstrates that careful, incremental planning can grow an idea into a lifestyle. When a digestive illness threatened Matt's livelihood in his early twenties, he and his wife decided to start farming to see if conventionally-grown food (and the stress of living a nine-to-five lifestyle) was the problem. It was. They started small with a herd-share program, marketed their meat, milk, and eggs to college friends and fellow church-goers, and have been able to steadily slowly grow their business.

Each chapter contains photographs of the farms and farmers, which helps drive home for the reader that these are real people who have—through sacrifice, planning, and hard work—found ways to farm that supports their values. Additionally, each chapter ends with "Take-Home Messages," a bulleted summary of dos and don'ts that affirm much of what each family farm story demonstrates. A superior book for its information, organization, and examples, Farms with a Future is essential for dreamers who intend to be doers, and doers who are seeking more creative dreaming.

Publishers Weekly Review: In this down-to-earth, business-oriented guide to running a farm, Thistlethwaite gives new and prospective farmers a hard-nosed taste of what it takes to run a sustainable farm and what steps are needed to succeed in this field, drawing on her six years of farming and a yearlong adventure visiting and interviewing small farmers across America. The book covers topics familiar to anyone starting a business—market niches, business plans, financing, accounting, human resources—in the context of farming, as well as farm-specific issues like finding land, choosing equipment, managing soil and water, harvesting, and processing. These sometimes dry subjects are leavened with instructive and inspiring stories about a wide variety of inventive, persistent farmers from Long Island and Vermont to Texas and Montana, ranging from novices to old-timers. Thistlethwaite's experience teaching beginning farmers is evident in the logical, easy-to-follow, realistic but encouraging text, which will help separate the wheat from the chaff. "If you are not prepared for some serious hard work, inclement weather, dirt lodged in every crevice of your body, and being so dog-tired that you fall into your easy chair at night and don't wake up until the next morning, then you might look into another vocation," she says. (Jan.)
Natural Farmer Review: Just as it is a great gift for a beginner farmer to find a compassionate, patient and experienced mentor in life – one that helps us navigate the somewhat tumultuous waters of growth and change as we test our wings - so it is meaningful when someone decides to take time out from life to share their experiences of success or failure in their field of expertise. How valuable to be guided by someone's wisdom as we move forward and make decisions about how to make positive steps forward in our businesses, and when to move forward with our new ideas. It's the guidance we all hope for in all aspects of life.

Lucky for us, this is the gift that Rebecca Thistlethwaite gives us with her new book, Farms with a Future. Rich with the wisdom she and her husband, Jim Dunlop, garnered from years of farming in California – at first, seat of the pants and small scale – then full throttle production. After intense business development, they decided to step back, evaluate what they wanted for themselves and their business, and learn more before they crafted their own next steps. During this time, they traveled and worked with other farmers across the U.S. who are using innovative practices to not only farm well, but farm smart. We are the recipients of what they've learned from their hard-won experience and dedication to helping the rest of us. I think you'll agree that we are all glad they made that decision.

With her no-nonsense attitude that can only come from crashing head-first into mistakes and learning the hard way, Thistlethwaite takes us through many of her and her partners misadventures, and then shows us how to do something smarter. With excellent examples from a family farm in every chapter, along with various resources, and a "take home message" section also in each chapter, the book is a dense, but not boring how-to read that promises to become recommended reading for anyone willing to take a sobering look at the prospects of a farming career. You will no doubt go back to Rebecca's book again and again, mining it for the next nugget of good advice. I'm sure we'll also be hearing about Rebecca's workshops in the near future, to get the full experience of the take-homes. I certainly already know I want to sign up for that when she comes to my neck of the woods!

Topics in this extremely helpful book range from marketing, land, financing, farm planning, equipment and infrastructure, soil and water management, harvest and processing, record-keeping and regulatory compliance, accounting, human resources and juggling family and work, add-on enterprises and value-added products. While the information in some chapters can be daunting in its scope (do we really have to figure all of that out right from the start?), it does however reflect the reality of not only following one's bliss into a farming career, but also what it means to work hard from dawn to dusk, and hopefully make real money at the end of the day. Thistlethwaite makes a point of returning to that important benchmark over and over again – she wants to make sure people are making a real living at the end of their fiscal year and are in the black. Bottom line? If you aren't looking at all the details she suggests, daunting or not, you will miss something important that can affect business decisions and outcomes. I will readily admit I learned something new on every page.

In her thoughtful way, Thistlethwaite takes into account many parts of farming that people sometimes don't want to think about, and again we must thank her for her perseverance. She is willing to ask the reader to look carefully at what they are doing, why they are doing it, and looking internally to see what they are cut out for. She is fearless in asking tough questions and helping the reader understand not only the complexities of farming, but more importantly the focus of the book, which is the business of farming. Unfortunately far too many people, when they are getting started with their farming careers, forget that their efforts need to eventually pay all the bills including the mortgage and health care. And this is what the author does seamlessly – addressing the many details that are all too easy to forget when we plunge headlong into farming without a business background. Rebecca focuses on producing a quality product with carefully thought-out marketing, and successful strategies.

I heartily recommend this book to any beginner farmer, as well as seasoned farmers looking for a fresh perspective as they move into their next stage of business development. The reader will certainly notice that Rebecca's plucky personal evolution and growth as a farmer and business person is also something we can track in ourselves and plan for over time. That first bold step we take as entrepreneurs is only one in a long string of necessary courageous moves and innovations we will need to embrace to create a long term sustainable farming business. With support and cutting-edge information like this, the good food revolution is being fueled with thoughtful, progressive insights to take us all a long way into a new age of smart farming!