Don't Think of an Elephant!
Know Your Values and Frame the Debate
"George Lakoff's Don't Think of an Elephant! is a wonderful example of what happens when you combine a linguist's ear for the subtleties of language with an understanding of the complexities of modern politics and a commitment to progressive ideals. Whether you think of yourself as a liberal, a progressive, or simply someone with an interest in how political language works, this is a must-read."

—Geoffrey Nunberg, Stanford University
New York Times Best Seller!
With over 300,000 copies sold Don't Think of an Elephant! is the definitive handbook for understanding what happened in the 2004 election and communicating effectively about key issues facing America today. Author George Lakoff has become a key advisor to the Democratic party, helping them develop their message and frame the political debate.
In this book Lakoff explains how conservatives think, and how to counter their arguments. He outlines in detail the traditional American values that progressives hold, but are often unable to articulate. Lakoff also breaks down the ways in which conservatives have framed the issues, and provides examples of how progressives can reframe the debate.
Lakoff's years of research and work with environmental and political leaders have been distilled into this essential guide, which shows progressives how to think in terms of values instead of programs, and why people vote their values and identities, often against their best interests.
Don't Think of An Elephant! is the antidote to the last forty years of conservative strategizing and the right wing's stranglehold on political dialogue in the United States.
Read it, take action—and help take America back.
Coming October 2014 - Don't Think of an Elephant! 10th Anniversary Edition
Completely revised and updated to tackle today's issues, the 10th Anniversary Edition not only explains what framing is and how it works but also reveals why, after a brief stint of winning the framing wars in the 2008 elections, the Democrats have gone back to losing them, and what can be done about it.
In this powerful new volume, George Lakoff delves into the issues that will dominate the midterm elections in 2014, the coming presidential elections, and beyond. He examines the current progressive and conservative frames on climate change, inequality, immigration, education, abortion, marriage, healthcare, national security, energy, and more. He explores why some issues have been difficult to frame, guides readers on how to frame complex issues without losing important context, and drives home the important differences between framing and spin. READ MORE....
Don't Think of an Elephant! supplementary materials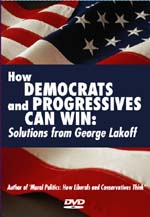 Haydn Reiss's documentary How Democrats and Progressives Can Win: Solutions from George Lakoff