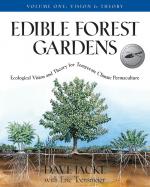 Like this book? Digg it!

Book Data
ISBN: 9781931498791
Year Added to Catalog: 2005
Book Format: Hardcover
Book Art: full color, charts and illustrations, resources, plant lists, glossary, bibliography, index
Number of Pages: 8 x 10, 396 pages
Book Publisher: Chelsea Green Publishing
Old ISBN: 1931498792
Release Date: July 29, 2005
Web Product ID: 252
Edible Forest Gardens Vol. I
Ecological Vision and Theory for Temperate Climate Permaculture
Praise
"These will be the benchmark works in the field for many years. The level of scholarship and meticulous footnoting is unsurpassed by anything I've seen in permaculture literature."

—Toby Hemenway, author of Gaia's Garden
A tree de force! A must-have set of books for anyone serious about polyculture, integrated organic garden and landscape design, permaculture in the temperate zones and, of course, food forests. The charts of condensed information alone are worth the price of admission. The best book on these topics in years Keep these books within arm's reach at all times!

—Robert Kourick, author of Designing and Maintaining Your Edible Landscape Naturally
"Dave Jacke and Eric Toensmeier have done us all a service by revealing in a clear and straightforward fashion how Nature works. Diversity in turn points the way to more sustainable food systems that all of us can fine tune on our home ground. I hear the voice of this good and gentle earth in Edible Forest Gardens . . . and am excited to keep reading more!"

—Michael Phillips, author of The Apple Grower and The Herbalist's Way
"While the scope of the permaculture concept has expanded from its initial focus on forest gardening, it is exciting to see how the authors have brought together the ecological theory and practise necessary to further this aspect of the permaculture agenda."

—David Holmgren, cofounder of permaculture and author of Permaculture: Principles and Pathways Beyond Sustainability
"Dave Jacke has knit an indigenous practice at once ancient and renascent with the mainstream of scientific exploration. He has given us legitimacy—and by us I mean all the ecological agricultural explorers of the epoch—and a cogency that will now be impossible to denigrate or diminish. Permanent agriculture has found a potent and disciplined way forward. Let us seize the moment!"

—Peter Bane, Publisher of Permaculture Activist

US Orders Only.
International Orders: Click here.
Additional Information
Eric Toensmeier's Upcoming Events
Eric Toensmeier at Food Forest Farm


, Holyoke MA

April 26, 2014, 12:00 pm

Eric Toensmeier at the Omega Institute


150 Lake Dr, Rhinebeck NY

May 16, 2014, 12:00 pm

Eric Toensmeier at Ferme Au Petit Boisé


Ferme Au Petit Boisé, Frelighsburg Quebec, Canada

May 23, 2014, 12:00 pm

Eric Toensmeier at Financial Permaculture & Local Business Summit


, Miami FL

May 31, 2014, 12:00 pm

Eric Toensmeier at Vermont Edible Landscapes


The Teal Farm, Huntington VT

June 28, 2014, 8:00 am