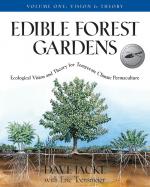 Like this book? Digg it!

Book Data
ISBN: 9781931498791
Year Added to Catalog: 2005
Book Format: Hardcover
Book Art: full color, charts and illustrations, resources, plant lists, glossary, bibliography, index
Number of Pages: 8 x 10, 396 pages
Book Publisher: Chelsea Green Publishing
Old ISBN: 1931498792
Release Date: July 29, 2005
Web Product ID: 252
Edible Forest Gardens Vol. I
Ecological Vision and Theory for Temperate Climate Permaculture
"Dave Jacke and Eric Toensmeier have done us all a service by revealing in a clear and straightforward fashion how Nature works. Diversity in turn points the way to more sustainable food systems that all of us can fine tune on our home ground. I hear the voice of this good and gentle earth in Edible Forest Gardens . . . and am excited to keep reading more!"

—Michael Phillips, author of The Apple Grower and The Herbalist's Way


Garden Writers Association of America: Silver Media Award
Edible Forest Gardens is a groundbreaking two-volume work that spells out and explores the key concepts of forest ecology and applies them to the needs of natural gardeners in temperate climates. Volume I lays out the vision of the forest garden and explains the basic ecological principles that make it work. In Volume II, Dave Jacke and Eric Toensmeier move on to practical considerations: concrete ways to design, establish, and maintain your own forest garden. Along the way they present case studies and examples, as well as tables, illustrations, and a uniquely valuable "plant matrix" that lists hundreds of the best edible and useful species.
Taken together, the two volumes of Edible Forest Gardens offer an advanced course in ecological gardening—one that will forever change the way you look at plants and your environment.
Essentially, edible forest gardening is the art and science of putting plants together in woodland-like patterns that forge mutually beneficial relationships, creating a garden ecosystem that is more than the sum of its parts. You can grow fruits, nuts, vegetables, herbs, mushrooms, other useful plants, and animals in a way that mimics natural ecosystems. You can create a beautiful, diverse, high-yield garden that is largely self-maintained.
—From the Introduction