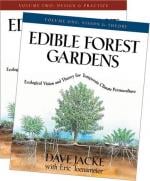 Like this book? Digg it!

Book Data
ISBN: 9781890132606
Year Added to Catalog: 2005
Book Format: Hardcover
Book Art: full color, charts and illustrations, resources, plant lists, glossary, bibliography, index
Number of Pages: 8 x 10, 396 pages, 672 pages
Book Publisher: Chelsea Green Publishing
Old ISBN: 1890132608
Release Date: November 16, 2005
Web Product ID: 128
Edible Forest Gardens (2 volume set)
Volume I: Ecological Vision and Theory for Temperate Climate Permaculture,
Volume II Ecological Design and Practice for Temperate Climate Permaculture
"Dave Jacke has knit an indigenous practice at once ancient and renascent with the mainstream of scientific exploration. He has given us legitimacy—and by us I mean all the ecological agricultural explorers of the epoch—and a cogency that will now be impossible to denigrate or diminish. Permanent agriculture has found a potent and disciplined way forward. Let us seize the moment!"

—Peter Bane, Publisher of Permaculture Activist

Edible Forest Gardens is a groundbreaking two-volume work that spells out and explores the key concepts of forest ecology and applies them to the needs of natural gardeners in temperate climates. Volume I lays out the vision of the forest garden and explains the basic ecological principles that make it work. In Volume II, Dave Jacke and Eric Toensmeier move on to practical considerations:concrete ways to design, establish, and maintain your own forest garden. Along the way they present case studies and examples, as well as tables, illustrations, and a uniquely valuable "plant matrix" that lists hundreds of the best edible and useful species.
Taken together, the two volumes of Edible Forest Gardens offer an advanced course in ecological gardening-one that will forever change the way you look at plants and your environment.
What is an edible forest garden?
An edible forest garden is a perennial polyculture of multipurpose plants. Most plants regrow every year without replanting: perennials. Many species grow together: a polyculture. Each plant contributes to the success of the whole by fulfilling many functions: multipurpose. In other words, a forest garden is an edible ecosystem, a consciously designed community of mutually beneficial plants and animals intended for human food production. Edible forest gardens provide more than just a variety of foods. The seven F's apply here: food, fuel, fiber, fodder, fertilizer, and "farmaceuticals," as well as fun. A beautiful, lush environment can be a conscious focus of your garden design, or a side benefit you enjoy.